Everything Old Is New Again At RKO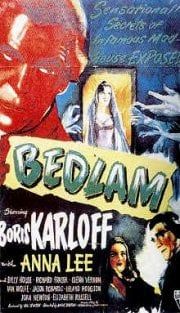 RKO Productions recently signed one of those working agreements with the Writer's Guild and immediately decided that originality isn't such a great thing. They announced the formation of a subsidiary, Roseblood Movie Company, to remake eight low budget versions of RKO horror films of yesteryear. Half of the eight films will be co-financed by Twisted Pictures (Saw) as we noted last year.
Variety notes that in addition to the film's announced last year; I Walked With a Zombie, Bedlam, Body Snatcher, and Five Came Back, RKO will also remake the 1940's relics, Lady Scarface, While the City Sleeps, Monkey's Paw and The Seventh Victim. I think I've heard of the Zombie movie and the Simpson's spoofed Monkey's Paw in one of their Halloween episodes, but other than that, I'm not tracking with most of these. They will be churned out regularly over the next 2 years, with the first one to begin filming later this year.
RKO President Ted Hartley obviously has an artist's vision in raiding his film library for cheap material. He is quoted in the Variety article as saying, "The most successful ROI in the movie business comes from scary movies that get wide release and cost under $10 million." The movie business is a business, I think we all know that; however when a company comes right out and says that ROI (return on investment) is the key factor in making a movie, you aren't going to end up with Citizen Kane or anything close to it. Hartley continues, "we've studied it extensively for our stockholders and investors and we saw the opportunity to take the rich Val Lewton library of scary thrillers and create a unique company out of it." It just warms my heart to think of how the investors and stockholders will benefit. The moviegoers…not so much.
Your Daily Blend of Entertainment News
Thank you for signing up to CinemaBlend. You will receive a verification email shortly.
There was a problem. Please refresh the page and try again.