Ewan McGregor Can't Remember His One Star Wars 7 Line, And It's Adorable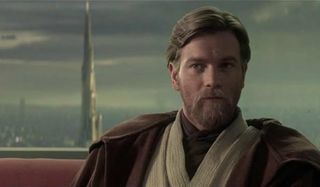 Look, we all know that the Star Wars prequels don't have much going for them. However, they do have one awesome trump card in their back pocket: Ewan McGregor and his portrayal of Jedi Master Obi-Wan Kenobi. He proved himself so fit for the role that he ended up as one of the few elements from the prequels to make it into J.J. Abrams' Star Wars: The Force Awakens. Despite such an honor, he apparently has a bit of trouble remembering his role in the recent film. Check out the video below to see more.
The man is definitely no padawan when it comes to charm. In a recent clip from The Graham Norton Show, the host brings up the fact that Ewan McGregor actually had a brief cameo in Star Wars: The Force Awakens that not many people picked up on; it takes place during Rey's vision in the basement of Maz Kanata's cantina. Graham Norton and the rest of the guests then question McGregor about Obi-Wan's line in the scene, and his inability to remember exactly what he said in the film is nothing if not adorable. He stumbles over his words, blushes ever so slightly, and finally manages to utter the phrase "Rey, these are your first steps," albeit with a little help from those around him.
McGregor then goes on to explain that the word "Rey" in the sentence is actually Sir Alex Guinness as Obi-Wan from the original trilogy, and the editing team manipulated his voice from one of the earlier Star Wars films in order to feature him in the latest Star Wars adventure. Having Ewan McGregor reprise his role as Obi-Wan is one of the few instances where fans of the series loved thinking back to the prequels. Despite the majority of wooden performances in the last trilogy, McGregor completely sold us on Obi-Wan in three different movies at three wildly different stages of the character's life.
Listen to the clip from The Force Awakens below to get a clear breakdown of the voice cameos in Rey's vision:
Did you pick up on the Obi-Wan Kenobi cameo when you first saw Star Wars: The Force Awakens? What other past Star Wars characters would you like to see appear in Star Wars: Episode VIII? We will bring you all of the latest and greatest Star Wars news as it becomes available to us. Star Wars: Episode VIII hits theaters on December 15, 2017, and Star Wars: The Force Awakens is currently available on Blu-ray and Digital HD. Stay tuned for more details!
Originally from Connecticut, Conner grew up in San Diego and graduated from Chapman University in 2014. He now lives in Los Angeles working in and around the entertainment industry and can mostly be found binging horror movies and chugging coffee.
Your Daily Blend of Entertainment News
Thank you for signing up to CinemaBlend. You will receive a verification email shortly.
There was a problem. Please refresh the page and try again.