Exclusive: Adam McKay Has Brought Up Step Brothers 2 With Richard Jenkins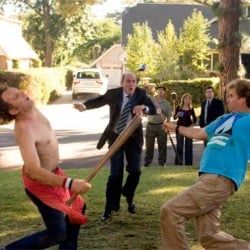 Tomorrow veteran actor Richard Jenkins will be making his Comic Con debut as part of the panel for Let Me In, Matt Reeves's adaptation of the Swedish novel Let The Right One In (and, of course, Tomas Alfredson's movie based on it). Jenkins plays the guardian/lover of Chloe Moretz's vampire Abby, and we talked a lot about the violent and utterly creepy elements of his role, and why working with kids like Moretz and co-star Kodi Smit-McPhee doesn't worry him in the least after this many years in the business. It was a great conversation that I'll be bringing to you in full sometime after the Con is over.
But of course, I also had to ask him about some other things, and after Eric heard from Adam McKay last week that he was thinking about making a Step Brothers 2, I asked Jenkins, who played the beleaguered dad in the movie, if he'd heard anything about it. I brought it up with the attitude that these things are cool to talk about but probably would never happen, but Jenkins told me not to be so skeptical:
So there you have it-- Adam McKay isn't just talking to random journalists about Step Brothers 2, but actually bringing it up with the stars of the first film. Does that make it any more likely to happen? Of course not. But at least now we know Jenkins would be down to make it.
Your Daily Blend of Entertainment News
Staff Writer at CinemaBlend