Exclusive Red-Band Clip From Shut Up Little Man!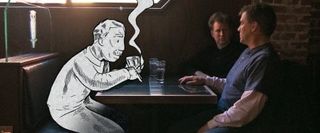 When we think of the pop culture of the early and mid 90s, we might think of Nirvana and grunge, flannel and Doc Martens, MTV and Pulp Fiction. But if you remember the underground culture of the era, you probably came across tapes that came to be known as "Shut Up, Little Man!", recordings of two elderly roommates in an San Francisco apartment building, furtively captured by their young neighbors. The two guys doing the recordings, Eddie and Mitch, found their neighbors' constant squabbling hilarious, and eventually passed the recordings on to friends who found it equally entertaining. The tapes then made their way around the country, inspiring sell-out CDs, comic books, plays and even a Hollywood deal.
Now the new documentary Shut Up Little Man! An Audio Misadventure chronicles the entire phenomenon. The movie premiered at the Sundance Film Festival earlier this year, and opens in theaters in New York and Los Angeles next week on September 16. To give you an idea of what to expect, of how director Matthew Bate tells the story through interviews with Eddie and Mitch as well as re-enactments, we've got an exclusive red-band clip from the film below. Take a look:
As you can tell the movie is distinctly R-rated not because of sex or violence, but the insane amount of profanity used by both sets of neighbors. But of course, that's what made the tapes so fun to begin with. If you like what you saw here and don't live in a city where Shut Up Little Man! is opening in theaters, you're in luck-- the movie is also available now through On Demand, iTunes, Amazon Watch Instantly and Vudu now. CHeck out the official synopsis below:
Staff Writer at CinemaBlend
Your Daily Blend of Entertainment News
Thank you for signing up to CinemaBlend. You will receive a verification email shortly.
There was a problem. Please refresh the page and try again.