Finding Dory Will Not Be A Prequel, Get The Details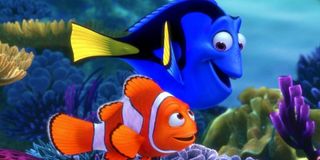 The Cannes Film Festival is in full swing and among the various offerings afforded to press was a look at the upcoming Pixar and Walt Disney Animation slates. John Lasseter showed off new footage of upcoming films, like Moana and Zootropolis, and revealed new information. When it comes to Finding Dory, the Pixar chief creative officer confirmed that this film is not a prequel and will continue the story of the clown fish Marlin and the amnesiac Dory.
According to a plot description referenced by The Hollywood Reporter, Finding Dory picks up six months after the events of the first film, which ended with Marlin, Dory and Nemo living joyously on the reef. In the sequel, Dory will learn about migration instincts and set off to find her family, with Nemo and Marlin in tow.
Ellen DeGeneres will return to voice the lovable Dory, while Albert Brooks will reprise his voice role of Marlin. Along their journey, they're going to meet a bevy of new characters, including Dory's mom Jenny (Diane Keaton), her father Charlie (Eugene Levy), a beluga whale named Bailey (Ty Burrell) and Dory's adopted killer whale sister (Kaitlin Olson). The Wire alums Dominic West and Idris Elba also have roles in Finding Dory, though they are unknown at the time, while a number of crucial characters from the first film will return. That includes Nemo's "Tank Gang," including Gill (Willem Dafoe) and the damnselfish Deb/Flo (Vicki Lewis).
Elsewhere, Pixar president Jim Morris told a Portugese publication that most of the film doesn't take place in the ocean but rather the Marine Biology Institute of California. It's in this rehabilitation complex, which houses marine and aquatic life, that Dory discovers she's born. And it's also likely that this is where we'll be meeting most of these characters.
We haven't seen anything outside of a piece of concept art from Finding Dory, but with a 2016 release date looming ahead, we're bound to see something soon. Perhaps footage will be attached to one of Pixar's upcoming films, like Inside Out (coming in June) or, more likely, The Good Dinosaur (dropping later this year in November)? Andrew Stanton is back at the helm of Finding Dory after his work on Finding Nemo. The man directed Wall-E and co-directed A Bug's Life for the animation giant, and he also wrote screenplays, story treatments and characters for a great deal more Pixar titles, including the Toy Story films, Monsters Inc. and shorts like Toy Story of Terror and Party Central. In short, he knows what he's doing.
Finding Dory will hit theaters starting on June 16, 2016.
Your Daily Blend of Entertainment News
Your Daily Blend of Entertainment News
Thank you for signing up to CinemaBlend. You will receive a verification email shortly.
There was a problem. Please refresh the page and try again.