First RED EPIC Camera Stolen From Executive's House In France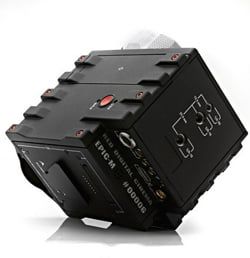 Here's a very brief run down of the history of the RED camera and why it's so freaking awesome. In 2007 the first RED camera was released by Red Digital Cinema Camera Company, along with an original World War I short filmed by Peter Jackson and the RED ONE camera which premiered that year at NAB. Since then, the camera's popularity has been off the charts as it's a relatively cheap camera to own, let alone rent, and provides the best picture quality you can get before moving to film. It's also one of the simplest direct-to-drive cameras around, easily transferring it's footage into your chosen editing suite. Sounds awesome, right?
Well, apparently someone else thought it was pretty awesome, as the first camera purchased from RED's new EPIC line has been stolen. And not just stolen off a truck. According to REDuser.net, RED EPIC #00006 was stolen from the France home of Mark Pederson, an executive at OffHollywood studio, while he and his rather large family were asleep. My hunch tells me we're looking for someone who has seen The Italian Job one too many times. Pederson and his family are safe and uninjured but are out a $58,000 camera.
On their side though is Jim Jannard, executive at RED, who has offered a $100,000 reward for information leading to the capture of the thieves and recovery of the camera. This sort of product support puts Best Buy's service plans to shame, though this probably won't be the case every single time one gets stolen.
Chances are these crooks don't even really know what they stole, and even better there's no possible way they can do anything with it. The camera will undoubtedly turn up once they realize how useless the item is to them. More on this as it unfolds.
Films shot with the RED:
District 9 (mostly)
The Informant!
The Social Network
Kevin Smith's upcoming Red State
Che
Gamer
and more, plus several TV series.
Your Daily Blend of Entertainment News
Thank you for signing up to CinemaBlend. You will receive a verification email shortly.
There was a problem. Please refresh the page and try again.