The First Star Wars Spinoff Movie May Have Found Its Lead, Get The Details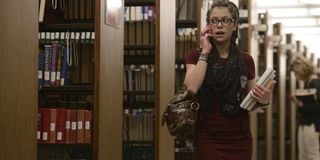 Is the first Star Wars spin-off movie about to take a massive leap forward with the casting of its leading actor? It certainly sounds that way. That's because reports have now emerged that Tatiana Maslany has landed the coveted role.
Total Geeks have reported that Tatiana Maslany was one of several up and coming actresses to have originally been linked to the role. However it's now believed that she has beaten both upcoming Rooney Mara and Felicity Jones, who were her competition, to the part. In fact a source for Total Geeks informed the publication immediately after this trifecta had auditioned that Tatiana Maslany had become the front-runner for the role. It's also believed that Maslany had impressed both Disney and Lucasfilm very early on in with her passion to join the film. It's still not been verified, but the studios are believed to have now offered her the leading role in the hugely anticipated blockbuster. However, just to reiterate, that hasn't yet been confirmed.
Who is Tatiana Maslany? Well, to start off with, she's a 29-year-old Canadian who has made a name for herself starring in Orphan Black. Which means she has proven that she has the acting skills to pay the bills, but she is also still a relatively unknown commodity -- something that her potential performance in the Star Wars spinoff film will certainly alter. Frustratingly though, at the moment, we still haven't got a clue who her character is. We don't even have an inkling. We got nada.
But the fact that, according to Entertainment Weekly, Amanda Seyfried has replaced Tatiana Maslany in Neil LaBute's upcoming off-Broadway play, The Way We Get By, only increases speculation that she will eventually lead the way in Gareth Edwards' film. The Way We Get By is set to premiere on April 28, which is around the same time that the Star Wars spinoff would have to enter production.
As I noted earlier, information regarding the upcoming Star Wars spinoff is still very much at a premium. Currently, all that we do know is Monsters and Godzilla director Gareth Edwards is directing the first stand-alone film, which is currently scheduled for a December 16, 2016 release. After Earth's Gary Whitta originally wrote the script. But earlier this month it was announced that Whitta had parted ways with the film and Chris Weitz had been hired as his replacement.
Meanwhile, a variety of rumors continue to flood in over what the Star Wars spinoff will actually revolve around. Some have suggested that it will focus on a young Bobba Fett. More recently, they've teased that it will actually be based on the characters from The Force Awakens. At the moment it's all guess work. All that's for certain is that it will follow J.J. Abrams' Star Wars: The Force Awakens, will precede Rian Johnson's Star Wars Episode VIII, will be a box-office behemoth and will probably star Tatiana Maslany.
Your Daily Blend of Entertainment News
Thank you for signing up to CinemaBlend. You will receive a verification email shortly.
There was a problem. Please refresh the page and try again.