The Furious 7 Poster Is Somber, Emotional And Perfect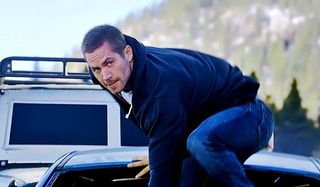 The death of Paul Walker meant that Furious 7's shoot was saddled with heartache. The first trailers and posters for the seventh instalment to the hugely popular franchise have looked to pay their respects to their fallen comrade. None more so than the film's most recent poster …
There's something delightfully touching about the new Furious 7 poster. Not only is it wrought with emotion, but it is also features a nice doff of the hat to Paul Walker following his untimely demise. In fact, it's pretty much perfect. From Vin Diesel's solemnly tilted head to Paul Walker standing defiantly, all the way through to the poignant tagline of, "One Last Ride." It's making me well-up just looking at it. Paul Walker's death on November 30, 2013, came halfway through filming for the Furious 7. Because of Walker's passing, filming was delayed so that re-writes could be conducted, and his brothers, Caleb and Cody Walker, were brought in as stand-ins for the actor's un-filmed scenes.
Furious 7's latest trailer was released earlier this week. Naysayers of the franchise won't have been won over by it. They'll only see the same clichéd characterization, lackadaisical plot and preposterous/barely plausible action that have always put them off. All the rest of us saw Vin Diesel flying between two buildings in car and then jumping out just in the nick of time before he fell 100 stories to his death. And we were thrilled. Basically, Furious 7 looks scintillating. In fact, let's celebrate just how awesome it looks by re-watching its most recent trailer in unison.
I'm almost disgusted by how much I'm actually looking forward to Furious 7. The film will see Vin Diesel's Dominic Toretto and his crew finally back in the United States, trying to live normal lives. That's until Jason Statham's Deckard Shaw, the older brother of the gang's previous foe, Owen Shaw, goes on the hunt for revenge. The addition of Jason Statham to the posse, which already includes a cavalcade of heavyweights, looks to have been a masterstroke. The Transporter actor is well-at-home laying down a heavy beating on his adversaries, and the potential bouts between the Englishman and Dwayne Johnson, Vin Diesel, Tyrese Gibson, Paul Walker and Ludacris are already mouth-watering.
We'll see if they are able to match the anticipation, and continue The Fast And The Furious franchise's surprising hot streak, when Furious 7 hits cinemas on April 3, 2015.
Your Daily Blend of Entertainment News
Thank you for signing up to CinemaBlend. You will receive a verification email shortly.
There was a problem. Please refresh the page and try again.