The Gambler Trailer Boasts A Skinny Mark Wahlberg And Tons Of John Goodman F-Bombs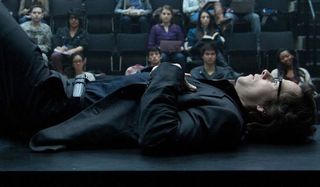 WARNING: This trailer is red-band and as such is NSFW.
With the fall comes a slew of movies that are gearing for Oscar gold. Then as we move into the winter, a slate of big, flashy blockbusters pile up, demanding our attention. So how do you cut through all this clamor when you're a mid-level thriller about a professor with a gambling addiction? You unleash a trailer like The Gambler's, full of camp appeal and f-bombs, lazily chucked by the always awesome John Goodman.
A remake of the 1974 James Caan vehicle, The Gambler stars Mark Wahlberg, who has shaved off about 60 pounds since he played the conniving bodybuilder in Michael Bay's Pain & Gain. Without the weight, the dude looks haggard, fitting as he's playing a literature professor who gets on the wrong side of some serious gangsters when his gambling debts stack up. Bringing some assurance of madness is American Horror Story grand dame, Jessica Lange. Brie Larson brings the promise of a love subplot with a much younger waitress, and a loan-sharking John Goodman brings a speech about "fuck you money" that's sure to be admired for ages to come.
Yeah, count us in.
We first got word of a Gambler remake back in the summer of 2011. At the time, Martin Scorsese was planning it to be a reunion project for himself and The Departed screenwriter William Monaghan. Shortly thereafter, the project drew some heat when it was revealed that the 1974 Gambler's screenwriter James Toback felt spurned, having not been approached about the remake. From there, Paramount Pictures made little progress with The Gambler until the summer of 2012, when Todd Phillips was in talks to step in to the director's seat that Scorsese had abandoned.
Going from the guy who made Goodfellas to the guy who made The Hangover seemed a radical change in direction, but it didn't take. Another year clicked by, and The Gambler resurfaced with a third director, this time Rupert Wyatt, who was coming off the success of the tent pole sci-fi actioner, Rise of the Planet of the Apes. By this point Paramount was in negotiations with Mark Wahlberg for the role originated by James Caan, and things were looking up. In the coming months, Jessica Lange signed on, as did Brie Larson, and John Goodman. Then things went quiet as The Gambler rolled the dice and galloped into production.
Finally, earlier this month, Paramount gave us a peak at their cards, revealing a few stills of a radically leaner Wahlberg , as is evident in its first poster:
With this latest trailer, The Gambler's on a good streak. Let's see if it can keep it going until its debut on December 19th.
Your Daily Blend of Entertainment News
Staff writer at CinemaBlend.