Gareth Evans Offers Bloody First Look At The Raid 2: Berandal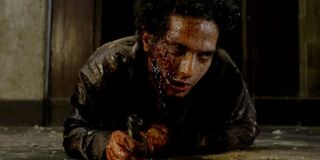 Welsh writer-director/Indonesia resident Gareth Evans burst onto the world stage in a blaze of badass glory in 2012 with the martial arts action epic The Raid: Redemption. The fast-paced and stunningly violent feature won enthusiastic reviews from such illustrious festivals as the Toronto International Film Festival, Sundance, New Directors/New Films, and SXSW. As critics and action-movie fans cheered, English-language remake and sequel were promised before the film even made its theatrical debut!
Earlier this year, Evans took to Twitter to unfurl some much-anticipated plot details about his sequel. He revealed the story of The Raid 2: Berandal would begin just two hours after the brutal and bittersweet end of the first film, with Rama (Iko Uwais), Bowo (Tegar Satrya) and Wahyu (Pierre Gruno) finding a new world of trouble. Considering "berandal" translates loosely to gangsters, expect more insane gunplay and mind-boggling martial arts.
In the thick of production, Evans has been sharing snippets of the sequel's progress, including this first look!
This first still suggests all the fame and acclaim hasn't shaken up Evans' aesthetic. The Raid: Redemption was set in a squalid department block and featured a cast of characters with an enormous threshold for pain and talent for violence. From the looks of this image Bernadal is bringing back all of the above. Other tweets from Evan tease car chases, crashes galore, fight scenes in cars, shootouts, and "120fps blood and grenades" to look forward to. But he also offers peeks behind the scenes, sharing a production checklist, and promising tips on how to make gory practical effects of your own:
The Raid 2: Berandal is expected to hit theaters later this year.
Staff writer at CinemaBlend.
Your Daily Blend of Entertainment News
Thank you for signing up to CinemaBlend. You will receive a verification email shortly.
There was a problem. Please refresh the page and try again.