Ghostbusters Reboot Will Feature Another Original Ghostbuster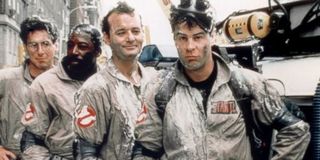 Paul Feig's Ghostbusters reboot has been catching serious flak from fans of the original franchise, claiming the new all-female team won't be able to live up to the originals. That certainly may be the case, but it doesn't sound like the original Ghostbusters are quite as upset as these angry fans. They even want to be in the movie with this new team. Which especially says a lot when you have Bill Murray getting involved.
Bill Murray has always been very vocal about his disinterest in starring in a third Ghostbusters movie. And boy has the original crew tried to get him on board, but without much prevail. But when word came out that the latest installment to the franchise would be an all-female reboot, who was the first to give their blessing? Well Murray of course. Sounds like Murray is putting his fear of returning to the franchise aside too, and is confirmed to appear in Paul Feig's upcoming installment according to The Hollywood Reporter.
Really, it comes as no surprise that the Groundhog Day actor wants in on this comedic casting. When the project was first announced, he even gave up his dream female casting. Also this puts Murray outside of the limelight on the project. The reason he never wanted to do a Ghostbusters 3 was because he didn't want to disappoint fans, and felt that there was no topping the first film anyways. Now with a fresh take, and some of the eyes off him, Murray can just have some fun with this new crew, pressure off on living up to the first film of the franchise.
Also, after hearing Dan Aykroyd had a small cameo in the film, Murray probably wanted to join in on the fun. Especially since word is that Aykroyd's cameo doesn't necessarily mean he is reprising his character, just spitting a recognizable line or two. With all of Murray's previous hesitations in returning to the franchise, a small cameo as an outsider from the action would be a win-win.
Now that we have two of the OG Ghostbusters on the ticket, it makes the all-new all-female Ghostbusters movie that much more exciting. So far, we've seen teases of the team's ghostbusting gear from their suits to proton packs, and they are looking badass. We also know that the story will revolve around Kristen Wiig's character as she teams up with Melissa McCarthy's character to write a book about ghosts, and after time passes it eventually leads to some serious paranormal investigating with the full team of Wiig, McCarthy, Leslie Jones and Kate McKinnon.
A strong supporting cast has been added to the mix too, with Chris Hemsworth as the Ghostbuster secretary along with Michael Kenneth Williams, Cecily Strong, Andy Garcia, Matt Walsh and Neil Casey. Ghostbusters is scheduled for a July 22, 2016 release.
Your Daily Blend of Entertainment News
Thank you for signing up to CinemaBlend. You will receive a verification email shortly.
There was a problem. Please refresh the page and try again.