Gong Li Will Be The Last Empress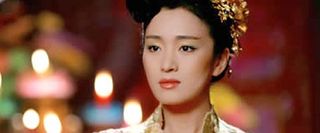 Chinese actress Gong Li is undoubtedly one of her nation's biggest stars. Since her screen debut in celebrated director Zhang Yimou's Red Sorghum in 1987, she's been his constant muse, appearing a dozen of his productions, including the Oscar-nominated dramas Ju Dou, Raise the Red Lantern, and Curse of the Golden Flower. But the gorgeous actress, who hasn't seemed to age a day since the '90s, has also made her mark in American cinema, memorably playing the cruel and calculating Hatsumomo in Rob Marshall's Academy Award-winning adaptation Memoirs of a Geisha.
THR reports China and the US will unite to produce the English-language drama The Last Empress, and quite rightly Li has been selected to star. The ambitious film will follow the life of Empress Cixi, who used her incredible charm and confidence to rule the last imperial dynasty of China effectively—though unofficially—for nearly fifty years. She rose from a humble concubine of Emperor Xianfeng to the mother of his son, Tongzhi, eventually becoming a major and outspoken influence in the empire.
Her's is a tale of power, conflict, and revolt, and seems sure to be the kind of grand biopic that could attract award season attention. But for now, The Last Empress is seeking a director. While that often means a would-be feature could long linger in pre-production, the film's producers are eager to get things going, harboring hopes to shoot in October of 2013.
As a co-production of America and China, it'll be interesting to see who producers pick to helm. Personally, I'm pulling for Li to reteam once more with Zhang, whose last feature, The Flowers of War, was a breathtaking portrayal of the Rape of Nanking that was the top-grossing Chinese film of 2011 as well as the sixth highest grossing film in China, following behind such American blockbusters as Transformers: Revenge of the Fallen and Avatar. We know these two make an incredible team, and Zhang is unmatched in his tender but tough portraits of women in the midst of conflict and war. So, basically, this would be a match destined for Oscar glory.
Your Daily Blend of Entertainment News
Staff writer at CinemaBlend.