Ted 2 Is Coming, Here's Your First Look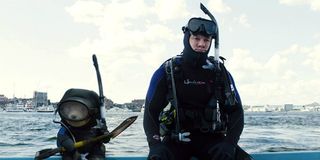 After numerous shenanigans with smoking reefer, partying with Flash Gordon and fleeing from one creepy father-son duo, Seth MacFarlane returns as the lovable but foulmouthed teddy bear in Ted 2. We've already seen a few photos here and there from the set, but now our first official look has arrived.
The good people at Entertainment Weekly debuted our first real look at the highly anticipated sequel, featuring the CGI teddy and Mark Wahlberg as his human companion. Plot details are virtually unknown at this time, and MacFarlane is keeping his mouth shut. Aside from the scuba gear get-up, however, the director at least revealed what we won't be seeing: any other wise-cracking plush animals.
"It's basically the way we treated Stewie in Family Guy,'' MacFarlane told EW. ''He's the only one of his kind who can talk." That's really not much of anything to go on, Seth. But we'll take it for now.
In addition to this new look, Wahlberg also revealed a pic from the set not too long ago featuring himself atop a Flash Gordon motorcycle (of course) on the steps of a church.
So, who's getting married? When last we saw John Bennett he was tying the knot with Mila Kunis' Lori. Did that last? Word is that Kunis will return but in a small role, while Amanda Seyfried will become the new female lead. We knew John's relationship was too good to be true. We assume his likely breakup has something to do with his motorcycle, considering how wide a wedge Flash Gordon struck in between this coupling.
Seyfried, though, is not the only new face. Ted 2 will also feature the always enjoyable Morgan Freeman, McFarlane's A Million Ways to Die in the West star Liam Neeson(s), Jessica Barth as Ted's check-out lady companion, and Patrick Warburton, who was last seen in the passionate throngs of a romance with Ryan Reynolds. Perhaps those two will be the ones to get hitched. That would make our day.
7th Heaven star Stephen Collins was also supposed to pop up in Ted 2, but he was cut in light of the recent child abuse scandal. But we couldn't imagine him having any sort of large part to play, and we're still just as tickled with excitement for Ted's on-screen return. The sequel will be released in theaters on June 26, 2015.