When The Guardians Of The Galaxy Might Team With The Avengers, According To Jeremy Renner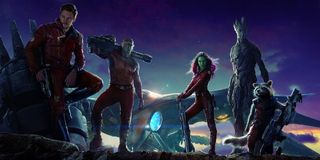 When will the Avengers finally encounter the Guardians of the Galaxy? That's one of the many questions on every Marvel fan's mind. Though Star-Lord and his crew of misfits exist off in a galaxy far, far away from Earth, Thanos and the Infinity Stones are the links between the two teams. According to recent comments made by Jeremy Renner, however, it doesn't seem like these worlds will be merging until after the Infinity War is over and done.
Let's take what Renner says with a grain of salt (or three). Though he's a part of the Marvel Cinematic Universe as Hawkeye, he's not on the same insider-y level as Kevin Feige and is, therefore, not necessarily privy to the crucial information we want. That said, the actor made the rounds at Wizard World Comic Con Chicago and, during a panel, he made a potential Guardians-Avengers team-up seem in the distant future.
ComicBook.com reports that Renner "seemed to indicate" that there weren't any plans in the works to merge these characters. He said he assumed Marvel was planning on giving the Guardians another movie, which is the first hint that — with all due respect — he doesn't really know what he's talking about. After all, Guardians of the Galaxy, Vol. 2 is already scheduled for a theatrical release on May 5, 2017. That was announced back during last year's Comic-Con. Renner then went on to say, "and then we've got Infinity War," seeming to indicate that these Avengers films were indeed Avengers films. Joking about when we might see a crossover, he said,
Based on what we know already, the priority with Guardians doesn't seem to be a crossover with the Avengers. James Gunn wrote in a Facebook post last December that the main goal is further expand the MCU and to keep large chunks of the Guardians' story away from the Avengers on Earth. He also remarked at the time that any potential future between the joining of these teams had not been decided on yet. It's also important to note, though, that Marvel's plans are continuously expanding. Feige said that he had a larger plan for the characters back when Nick Fury first approached Tony Stark in that Iron Man ending, but no one expected something like Guardians of the Galaxy to perform so well at the box office, or that Sony would concede to let Disney use Spider-Man in their universe. As a result, Guardians 2 was green lit and the release dates for the Phase Three films were shuffled around to accommodate Jon Watts' solo Spider-Man film.
There's definitely a reason why Thanos and one of the Infinity Stones popped up in Guardians. Does that mean we'll see Star-Lord, Gamora, Drax, Rocket and Groot join Earth's Mightiest Heroes to take this villain out in Infinity War, Part 1 and Part 2? We'll have to hang tight on that front.
Your Daily Blend of Entertainment News
Thank you for signing up to CinemaBlend. You will receive a verification email shortly.
There was a problem. Please refresh the page and try again.