Hank Azaria Is Gargamel In The Smurfs, Katy Perry Is Smurfette!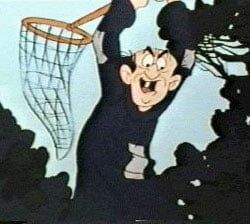 UPDATE: Neil Patrick Harris, who will be playing the main human character in the film, has tweeted that Azaria's Gargamel will in fact be live-action, not animated. Those of us who gawked at Azari's buff bod in Run, Fat Boy, Run are all secretly thrilled.
When I first saw the trailer for Avatar, I thought it was the live action Smurfs movie. I was wrong. In reality, The Smurfs will start filming next month. Big names are coming on board to lend their voices to the production. EW.com reports the newest additions are Hank Azaria as Gargamel, and Katy Perry as that little blue minx, Smurfette.
Azaria is the voice behind two of my favorite all-time Simpsons characters: Moe Szyslak and Police Chief Wiggum. Now he will lend his pipes to the sorcerer and sworn enemy of the Smurfs. Gargamel is one of those eternal bunglers (much like Apu and Wiggum) whose quest for power ultimately leads to fouling something up, running away and hiding. Here's looking forward to him belting out, "I hate those Smurfs!"
Meanwhile, Perry will bring her helium-induced rasp to Smurfette in what is nothing short of exemplary voice-casting. I went back and watched a few clips of Smurfette just to make sure: Perry is a perfect match.
George Lopez, Alan Cumming, Neil Patrick Harris and Jayma Mays are also set to star in the big, blue adventure.
Do your own Katy Perry / Smurfette voice comparison below:
Smurfette
Katy Perry
Doug began writing for CinemaBlend back when Terminator: The Sarah Connor Chronicles actually existed. Since then he's been writing This Rotten Week, predicting RottenTomatoes scores for movies you don't even remember for the better part of a decade. He can be found re-watching The Office for the infinity time.
Your Daily Blend of Entertainment News
Thank you for signing up to CinemaBlend. You will receive a verification email shortly.
There was a problem. Please refresh the page and try again.