Have The Wachowskis Started Developing Another New Project, Called Jupiter Rising?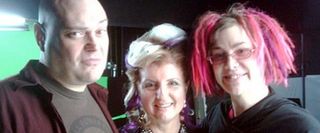 Setting aside the Matrix trilogy, which was really just two films pumped out at a quick speed to capitalize on the 1999 hit, the Wachowski siblings have generally taken their time getting their next projects out in the world. Speed Racer hit theaters in 2008, five years after The Matrix Revolutions, and only now are Andy and Lana Wachowski ready to start shooting their next film, an ambitious adaptation of the novel Cloud Atlas that they're directing alongside Tom Tykwer.
But once Cloud Atlas is done, the Wachowskis could actually be ready to move on to a new project, which is pretty much lightning speed for the deliberative siblings. http://twitchfilm.com/news/2011/06/breaking-the-wachowskis-jupiter-rising-on-the-move.php>Twitchfilm reports from some unnamed sources that the Wachowskis are already prepping something called Jupiter Rising, which would be their next project. Of course we don't know anything about it-- the Wachowskis do love keeping things under their hats-- but Twitch passes on the vague comment that "Warner Brothers believe that this is the project that will return the duo to their post-Matrix glory." I'll just save my comments about how every studio likes to believe their next movie is a hit.
With Cloud Atlas going into production this fall, it will likely be a long time before we hear anything else about Jupiter Rising. And there's no telling where this might fit in alongside other projects the siblings are reportedly considering, including the modern-day Robin Hood that might star Will Smith and the "gay war movie" Cobalt Neural 9 that's got Arianna Huffington involved. Given how little we know about Jupiter Rising, it's probably the one I'm going to anticipate the least. But now we know it's possible that there won't be yet another massive wait to see what the Wachowskis have next up their sleeve.
Your Daily Blend of Entertainment News
Staff Writer at CinemaBlend