Here's Everything Wrong With Pitch Perfect In 1 Video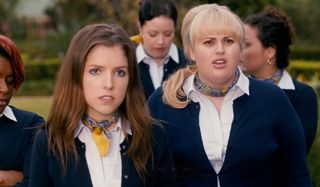 Personally, I think that anything that Anna Kendrick ever touches or stars in can do no wrong. But it turns out that the good folks over at Cinema Sins don't share my same thoughts on the actress' work, because they've taken it upon themselves to rip apart Pitch Perfect ahead of the release of its sequel.
Damn. Those rapscallions over at Cinema Sins have really done it this time. Not only have they managed to ruin Pitch Perfect, a film that I've always found clichéd but enjoyable any time I've stumbled upon it, but they've also somehow managed to reduced my adulation for Anna Kendrick too.
So it turns out that Pitch Perfect is kind of littered with glaring errors. None more so than the fact that the Bellas are able to get so far, heck even to the acapella National Championships, with such a lame performance. The group of gals repeatedly sing Ace Of Base's "I Saw The Sign" to try and progress through the competitions, even though when they first sing the track they were roundly criticized by the judges and audience. And that's even before Anna Camp's Aubrey Posen puked over the front row.
Plus even Anna Kendrick's innate charm and glow can't stop Beca Mitchell from being a bit of a cretin. Not only does she treat Skylar Astin's Jesse Swanson rather cruelly, and repeatedly rebuff his advances, but at times she just comes off as plain cold-hearted. In fact, if Anna Kendrick wasn't playing her, I'd have been hoping that she'd fail instead of The Treblemakers. But, fortunately for Pitch Perfect, Anna Kendrick leads the way and thus Pitch Perfect is able to remain the right side of credible.
There are plenty of other slight issues with Pitch Perfect that Cinema Sins takes great glee in highlighting, including the film's over reliance on vomit for comedy and a heated debate about the greatest soundtracks and composers in movie history - FYI: Cinema Sins should be as equally ashamed as Pitch Perfect for their failure to mention either American Graffiti, Rushmore, O Brother, Where Art Thou? or Trainspotting in that list. Hopefully the imminent Pitch Perfect 2 will have learned from these various mistakes. And its trailer suggests that it should be a delightfully enjoyable popcorn flick just like its predecessor.
Plus, even if it does make the same mistakes, Anna Kendrick's presence will help to cover the cracks. At least in my eyes anyway. Pitch Perfect 2 is due out on May 15th.
Your Daily Blend of Entertainment News