Here's The Thing Of It: Eloise Cast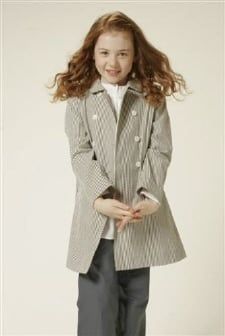 In any movie adaptation about Kay Thompson's popular children's book character Eloise, the key role is, well, Eloise. So although we told you last year that there was going to be a big-screen movie and we told you in February that Uma Thurman would play Nanny; we hadn't yet heard who would be the big cheese. Now we know.
HandMade Films says that relative unknown Jordana Beatty, 9, will play the title role in Eloise in Paris. She was chosen from an audition of 4,000 girls. Most of the 4,000 were probably too ugly or untalented to get the role, so her real competition was likely smaller. Jordana, who is as cute as a button, will portray the six-year old who lives with her nanny, Nanny, at the Plaza Hotel in New York while her mother ignores and abandons her. That last part is not emphasized in the books as much as it probably should be. I can't quite remember the plot of this particular book, but something tells me it involves Eloise and Nanny going to a foreign city that rhymes with Ferris.
If you haven't heard of Beatty, you aren't alone. She's reportedly done television and commercial work but her main IMDB.com entry is as "Little Girl" in Superman Returns. I'm sure she was great. Director/co-writer Charles Shyer is happy with her and is quoted in HR as saying, "Jordana is a unique combination of funny, feisty, sweet and soulful -- all the qualities that were so much the essence of Kay Thompson's iconic character." That sounds great but Shyer is the guy who launched Lindsey Lohan's career in The Parent Trap, so hopefully this will turn out better. Filming begins in August, so a 2009 release is likely.
Your Daily Blend of Entertainment News