Highlander's Bill Panzer Dies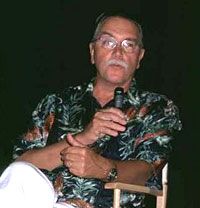 Bill Panzer, producer of everything that has ever been a part of the Highlander universe, has died at the age of 62.
He perished in what can only be described as a freak accident. In a statement released on Highlander-Community.com by Highlander Worldwide president Carmel Mcphereson it's explained this way: "Bill died in the typically theatrical way that I would have expected of him. He had decided to go ice skating - at 62! He was a man who lived by his own rules and where in the rule book did it say that 62 year olds shouldn't ice skate. Unfortunately he fell- heavily - and hit his head. Whilst he seemed to recover, the damage had been done and the result was a brain haemorrhage from which he failed to recover."
For Highlander fans, Bill Panzer's name is instantly recognizable. Along with his partner Peter Davis, he's the man responsible for where the series has gone over the years. In a way, he's been kind of like Highlander's version of Rick Berman. Though often the source of fan outrage and irritation over the choices he made for the franchise, there's no denying his impact on the face of not only Highlander but pop culture.
Panzer's sudden death has been confirmed by both his partner David Abramowitz and Highlander star Adrian Paul. Adrian has posted a tribute to Bill Panzer on his official site. Here's some of what he had to say about his long time boss: "I know there were times that you questioned your position in Hollywood; questioned whether you were big enough, good enough or successful enough. Perhaps inside, like many of us, you didn't believe that you had achieved everything that you dreamed of. But believe me, you touched millions. You were able to create something that made a ripple in the frequency of life and touched people's hearts and souls. For that we all thank you.
However, the thing I regret the most is that in all that time, in all the moments we spent together, in all the places we visited - Vancouver, Paris, Vilnius, London, Bucharest, Los Angeles Bordeaux, Cannes and Daytona - I never truly thanked you for allowing me into the Highlander universe and for giving me the opportunity to play Duncan MacLeod. So, from the bottom of my heart Bill, thank you. Thank You. Thank You."
Panzer's final film, Highlander: The Source has just finished filming and is due out some time later this year, but below is a video reminder of what was unquestionably Bill Panzer's best work.
Your Daily Blend of Entertainment News
Thank you for signing up to CinemaBlend. You will receive a verification email shortly.
There was a problem. Please refresh the page and try again.