Hilary Duff Takes On Bonnie And Clyde Remake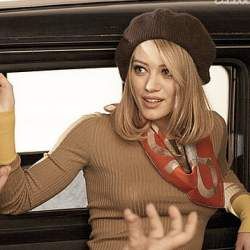 About a year ago, Hilary Duff posed for Allure magazine dressed like Faye Dunaway in Bonnie and Clyde. Who knew that would be a hint? Apparently Duff is now preparing to work on The Story of Bonnie and Clyde, another movie about the famed gangsters that will presumably feature Duff in the female title role.
This week's Production Weekly says that production will begin in April in the Deep South, with Tonya S. Holly (When I Find the Ocean) directing Duff, Kevin Zegers, Natalie Canerday and Rance Howard. The plot description offers up nothing but the details of Bonnie and Clyde's lives, but how much do you want to bet this won't be trying to approximate the groundbreaking filmmaking that the original Bonnie and Clyde represented back in 1967?
I'm not willing to call this a remake, and I think it's probably just another movie based on the same real-life story. But, seriously, why why why? Weren't there other star vehicles to introduce Hilary Duff as a "grown-up" actress that wouldn't be desecrating the memory of an iconic 60's movie? Did Hilary just get so hooked on the Dunaway-inspired berets from her fashion shoot that she just had to give it a try? Is there anyone out there who thinks this movie is truly necessary?
Staff Writer at CinemaBlend
Your Daily Blend of Entertainment News
Thank you for signing up to CinemaBlend. You will receive a verification email shortly.
There was a problem. Please refresh the page and try again.