Horrible Bosses Will Stream In A Cloud And Come In A Totally Inappropriate Edition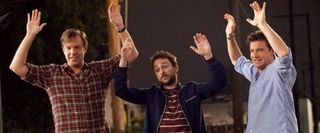 Horrible Bosses may or may not be Colin Farrell's best role, but his performance in the R-rated summer comedy certainly didn't hurt the surprisingly well-received film. New Line and Warner Home Entertainment will jointly release the story, about three men plotting the murders of their bosses, onto Blu-Ray and DVD on October 11.
Horrible Bosses will be released in a "Totally Inappropriate Edition," which sounds like an attempt to get early teens excited. They should have just gone for "Extended, Unrated Edition" like every other comedy release in existence that can't make a legitimate gag out of its edition title. Either way, the extended cut will run 106 minutes instead of the 98 minutes for the theatrical version.
Blu-Ray and DVD copies will come with four featurettes –"My Least Favorite Career," "Surviving A Horrible Boss," "Being Mean is so Much Fun," and "The Making of the Horrible Bosses Soundtrack" – and a deleted scenes section. The features aren't exactly inspiring and the soundtrack featurette is just plain weird for a film that doesn't rely on music for ambiance. None of this matters, however, because New Line and Warners are including one of its first UltraViolet digital copies within Warner's cloud, which, if anything, will be fun to play around with.
It may not be the best disc release ever, but Horrible Bosses is really funny and is worth a purchase. Besides, it will include Jennifer Aniston eating a popsicle in her underwear. If that isn't incentive I can always refer you to the first paragraph and try to sell Colin Farrell with a bald spot.
Your Daily Blend of Entertainment News