The Host Giveaway: Win A Signed Poster, A Behind-The-Scenes Book And More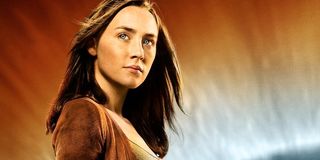 In both movie versions of Invasions of the Body Snatchers, having your body and mind taken over by an alien-- or "pod person"-- was the worst case scenario, and exactly what our heroes spend the entire movie trying to avoid. But what if the invasion was only the beginning, and a heroine found herself living with an alien inside her, but also fighting back?
That's the wild sci-fi premise of The Host, the new film based on the hit novel by Stephenie Meyer, the mind that brought you the Twilight franchise. In The Host we've got young, attractive people-- played by Saoirse Ronan, Jake Abel and Max Irons-- and an awkward love triangle, but also a fascinating futuristic setting in which humanity has been almost completely overtaken by aliens known as "souls," except for a hardy few who fight back. To celebrate this weekend's release of The Host, we've got a prize pack to give away to one lucky winner, including everything you see listed below:
T-Shirt
Buttons
Poster signed by Saoirse Ronan, Jake Abel, Max Irons, Stephenie Meyer and Andrew Niccol
Copy of The Host book
Movie Companion with Behind-The-Scene Photos
How do you enter? Just click on over to our Facebook page, "Like" it if you haven't already, and then leave a comment on this contest post. Tell us why you're looking forward to The Host and we'll pick one winner and one grand prize winner at random. The contest ends at 12 am EST on Monday, April 1st. If you enter, please make sure we can contact you via Facebook. If you have it set to where we can't message you, your prize will go to somebody else.
The winner will be notified via Facebook direct message and asked to provide their mailing addresses (no P.O. boxes please, and addresses in the United States only). Prize packs will be mailed directly to the winner. No purchase necessary. Failure to comply with the rules will result in disqualification and subsequent mockery. Good luck!
Staff Writer at CinemaBlend
Your Daily Blend of Entertainment News
Thank you for signing up to CinemaBlend. You will receive a verification email shortly.
There was a problem. Please refresh the page and try again.