Hot Pursuit Trailer Teams Reese Witherspoon And Sophia Vergara For A Road Trip And Laughs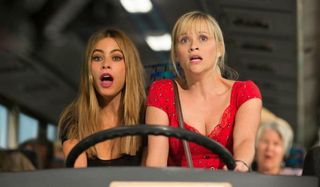 The trailer for the upcoming comedy, Hot Pursuit has hit with the sidesplitting impact of a tanker truck crashing into a convertible full of cocaine. On the run from a powerful drug cartel, this genre blending romp road trip puts its stars, Sofia Vergara and Reese Witherspoon into a Texas-sized blender of hilarious on-screen chemistry…and gratuitous cleavage shots because, you know…Sofia Vergara.
In an outing that almost seems to resemble a throwback to her Tracy Flick character in 1998's Election, Witherspoon is an overzealously attentive, but practically inept police officer who has been put in charge of protecting a potential witness who would testify against a top lieutenant in a dangerous Columbian cartel. (As opposed to the "safe" ones, right?) That witness, however, happens to be a glamorous, sexy, cunning woman clearly living off misbegotten money played by Sofia Vergara, who, as we quickly see, has been recently widowed. (And by "recently," we mean about 40 seconds into the trailer.) Clearly, Sofia's character won't have time to mourn, or, for that matter, be affected in any way, shape or form by the passing of said dead hubby, seeing as she's on the run from the cartel who killed him in their attempt to permanently silence her. Now, it seems that Reese Witherspoon's clumsy uniform-clad constabulary is her only hope in preventing the witness from meeting the same fate of her quickly-forgotten obituary-bound other half.
Clearly, topics of drug cartels, dead husbands or the film's general plot are an afterthought, as this is a lighthearted comedy in which interpersonal chemistry of the two headliners is the actual centerpiece. The film is a genre hybrid, road-trip/buddy-cop outing that is certainly not outside the conventions of contemporary comedies with female casts like, specifically, 2013's The Heat with Sandra Bullock and Melissa McCarthy. (On a sidenote, Hot Pursuit director, Anne Fletcher worked with Bullock in 2009's The Proposal.) However, despite Witherspoon's impeccable comedic credential, the Witherspoon/Vergara team-up might have been a gamble on paper. In fact, this will be the Modern Family television star, Vergara's first big marquee film outing. Yet, if you were to ask the film veteran, Witherspoon, she seems to believe that her co-star's presence is palpable. As Witherspoon tells People when commenting on her own character's "dorky" nature.:
Plenty of humor is abound provided by aspects ranging from the film's Texas setting, ageism in media reporting, accidental nakedness, granny panties and comedian, Jim Gaffigan prematurely unloading his weapon. The chemistry between Witherspoon's uptight copper and Vergara's capricious trophy wife seems to mix well in what should end up affirming a solid, though tumultuous friendship.
Hot Pursuit looks to make the old "lady business" gambit into a cinematic standard when it hits theaters on May 8.
Your Daily Blend of Entertainment News