How Black Panther Differs From Captain America And Iron Man, According To Chadwick Boseman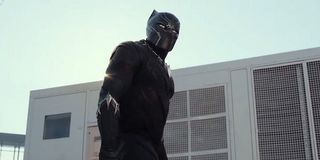 The main sides represented in Captain America: Civil War are the pro-registration Iron Man-led faction and Captain America's anti-legislation faction. However, there's a third viewpoint that's been touted in reports over the last year: Black Panther's. He may be fighting for Team Iron Man, but it's been said many times that T'Challa of Wakanda has his own agenda in the third Captain America installment. However, aside from his own plans and distinctive costume, there's another key way Black Panther differs from those two. Elaborating on previous comments, actor Chadwick Boseman states that Black Panther doesn't even look at himself as a superhero.
According to Boseman, Black Panther is the prince of Wakanda when the movie kicks off, so he views himself as a ruler/politician first, not a superhero. He then explained to IGN how in Wakanda, none of the country's citizens look at him in that way. Boseman said:
Unlike in the comics, there are few heroes in the Marvel Cinematic Universe whose true identities are secret from the public, so this particular facet of superhero mythology hasn't been as big a deal. As far as Black Panther is concerned, this depiction of him is faithful to past stories. In Wakanda, the Black Panther is a mantle that's passed down the royal lineage, although each individual must also prove they are worthy of carrying it. Everyone in the country knows it's their king/prince/other kind of ruler wearing the costume, but the costume helps instill fear in his enemies and hope in his loyal subjects. This is different from Captain America and Iron Man, who, despite everyone knowing who they are in this continuity, are looked at as your usual brand of special protectors.
When Captain America: Civil War kicks off, T'Challa will be on a political mission to track down Bucky Barnes and help enforce the new law enforcing that enhanced beings be properly monitored. So even though he's the Black Panther we know and love, he has his objectives, and working with the other members of Team Iron Man, he won't let anything deter him from succeeding. Once Captain America: Civil War is over, it's expected that T'Challa will return home, thus setting up the events of his 2018 solo movie. In the comics, Black Panther wasn't viewed as a traditional superhero until he came back to the U.S. and joined the Avengers, Presumably he'll follow a similar path in the MCU later down the line.
We'll see Black Panther in action for the first time when Captain America: Civil War charges into theaters on May 6.
Connoisseur of Marvel, DC, Star Wars, John Wick, MonsterVerse and Doctor Who lore. He's aware he looks like Harry Potter and Clark Kent.
Your Daily Blend of Entertainment News
Thank you for signing up to CinemaBlend. You will receive a verification email shortly.
There was a problem. Please refresh the page and try again.