How Long Ryan Reynolds Wants To Play Deadpool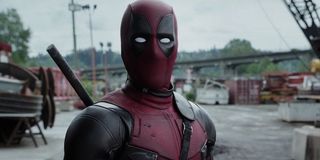 What's been plainly obvious from the hoard of Deadpool clips that have been released over the last few months is just how much fun Ryan Reynolds has playing the character. Even before the first footage for Deadpool, Ryan Reynolds seemed to have a glint in his eye whenever it was mentioned, which is because he got to make an authentic adaptation of the comic-book character. Clearly, Ryan Reynolds' love for Deadpool hasn't diminished too, as the Canadian actor has now come out and insisted that he'd love to portray him for the rest of his career.
Ryan Reynolds made this assertion while at the same time as dismissing another comic-book role he'd previously inhabited. Because when he was asked if he'd have any interest in reprising Hal Jordan in the already confirmed 2020 Green Lantern movie, Reynolds insisted that he's now only concerned about Wade Wilson.
Luckily for Ryan Reynolds, early estimates are that Deadpool is going to be a box office bonanza when it's released, which means that he's going to get plenty more opportunities to play the titular swordsman that he's obviously got quite a lot of affinity for.
Ryan Reynolds' comments to IGN are from an actor who knows just how lucky he is to have made a worthy, and fresh adaptation of a comic-book icon. His previous attempt to bring Wade Wilson to the big-screen, in X-Men Origins: Wolverine, was disappointingly diluted. Rather than being the exuberant, cocky, and outrageous character that comic-book fans adore, he failed to make any impression.
Ryan Reynolds' next comic-book jaunt, 2011's Green Lantern, was equally as unsatisfying. While its disastrous $219.9 million box-office return makes Green Lantern's failure seem much worse that it actually was – it's got some nice humor and spectacle in there – it was still nowhere near what audiences expected.
But with Deadpool, Ryan Reynolds has been provided with the freedom to blend his own outlandish personality with that of the irascible superhero. Kudos to 20th Century Fox for providing Deadpool with the opportunity to create such an outrageous entry into a genre that was threatening to become a tad stale.
Still not pumped for Deadpool? Then take a look at the latest red-band trailer below, because that should do the trick of increasing your excitement ahead of its ever so close release.
Deadpool will finally be with us next Friday, where it will tussle at the box office with Zoolander 2. In an actual fight though, I think we'd all know who'd come out on top. Not even Blue Steel would be able to stop Deadpool's katanas.
Your Daily Blend of Entertainment News
Your Daily Blend of Entertainment News
Thank you for signing up to CinemaBlend. You will receive a verification email shortly.
There was a problem. Please refresh the page and try again.