Deadpool Has An Important And Hilarious Message About Your Health In New Video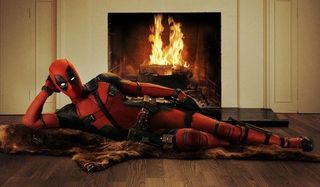 We've been pumped for this since the beginning, but now that we're just a few weeks away from Deadpool finally hitting theaters, we're getting more and more stoked. It doesn't hurt matters that the marketing team is absolutely crushing it. From those poo-themed emoji billboards to that video where Deadpool mocked all of Australia, it's all been hilarious and captures the irreverent sense of humor of the character. The latest bit from the movie actually has a serious topic that impacts the health of thousands of men, testicular cancer, but since it also involves balls, and Deadpool, you can probably guess how this goes. You need to check this out for yourself.
Testicular cancer is a serious issue and is responsible for thousands and thousands of deaths each and every year. Thousands of new cases are diagnosed annually, and roughly 1 in 200 men will have to contend with it as some point in their life. But if you're familiar with Deadpool, he has his own special take on prevention, and, as you can clearly see in this video, it's not your standard approach. I very seriously doubt your doctor, or any other health professional, will explain how give yourself a testicular exam in quite this manner.
Of all the horrible diseases Deadpool could evoke in its marketing campaign, it actually makes a great deal of sense for it to be cancer, as it plays a pivotal role in the narrative. Wade Wilson (Ryan Reynolds) is a former special operations soldier whose body is ravaged by cancer. It is when he undergoes and experimental treatment for the disease that he is transformed into the title character.
The process he endures leaves him with accelerated healing abilities similar to Wolverine, but there are some unintended side effects. He's emerges horribly scarred—we've heard TJ Miller's character Weasel say he looks like an avocado had sex with an older avocado—and a wee bit mentally unstable. So, armed with swords, all the bullets he can carry, a new identity, and a wicked sense of humor, Deadpool sets out on a quest for revenge against the people responsible for his situation. Along the way he'll also have to rescue his love interest (Morena Baccarin).
R-rated and full of foul language, blue humor, and violence, Deadpool is not going to be your average superhero movie, but it is still on pace to have a big opening weekend. And if it lives up to the marketing, we should be in for a pretty damn good time.
Deadpool hacks and slashes and blasts his way into theaters on February 12, just in time for Valentine's Day.
Your Daily Blend of Entertainment News