How Long Star Wars: The Force Awakens May Be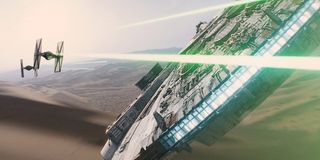 As a whole, Star Wars fans are known for being rather robust in their enthusiasm for the franchise, and thus they've been willing to sit through some rather lengthy cinematic installments. And if one new rumor making the rounds is to be believed, the latest chapter, Star Wars: The Force Awakens, will fit right along side the others in this category, and we may now know how long it is.
This is just a rumor, and should be treated as such, but Following the Nerd has a report that they say they are "100% sure of"—make of that what you will—stating that The Force Awakens will clock in at a 136 minutes when it hits theaters later this year.
If this pans out, this places it roughly in the middle of the pack a far as runtimes for Star Wars movies go, making it the third longest. A New Hope, The Empire Strikes Back, and Return of the Jedi are the shortest three, in that order, running 121 minutes, 124 minutes, and 131 minutes. As for the prequels, The Phantom Menace, Attack of the Clones, and Revenge of the Sith run 133 minutes, 142 minutes, and 140 minutes, respectively.
Whether or not this turns out to be true, this certainly seems to fit with the franchise's track record, but only time will tell. Though there have been rumblings that the next trailer for The Force Awakens is finished and is making the rounds behind the scenes—some say we could see it released within a week—director J.J. Abrams has fairly recently said that they're still tinkering with the final edit (though he does have final cut), so the exact length of the film may still be at least somewhat up in the air.
To be honest, I would have guessed The Force Awakens to run somewhere in the 150 minute, two-and-a-half hour range. We don't know a ton about the story, but it is readily apparent that there is a lot going on. Set 30 years after Return of the Jedi, that's a wide swath of time, and a great many things have happened. We have to catch up with returning characters like Han, Luke, and Leia; and set up the new additions like Rey, Finn, Poe Dameron, and Kylo Ren, among others. We have to learn how the Rebel Alliance became the Resistance, how the Empire morphed into The First Order, and many other things, like who the hell are the Knights of Ren? All of this will take time.
Some of this ground is covered in comics like Shattered Empire, books like Aftermath, and video games like Star Wars: Battlefront. But a lot of people aren't going to dive into those, so, for the moment, though they are all official canon, they'll likely remain largely supplemental for those diehards who want to dig deeper into that far, far away galaxy.
Like with most things related to Star Wars: The Force Awakens, we likely won't know exactly how long it is until we sit down to watch it on December 18.
Your Daily Blend of Entertainment News
Thank you for signing up to CinemaBlend. You will receive a verification email shortly.
There was a problem. Please refresh the page and try again.