The Final Mad Max: Fury Road Trailer Is Probably The Best One Yet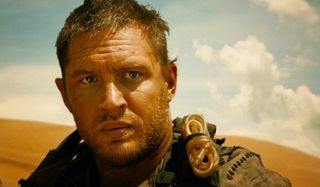 Marvel Studios' impending rivalry with Warner Bros. is set to truly kick into gear next year when Batman v Superman: Dawn Of Justice really kick-starts the studio's big slate of DC movies. But there's one Warner Bros. blockbuster that is just a few weeks away and actually looks much more enthralling than The Avengers: Age Of Ultron and Dawn Of Justice combined. That film is Mad Max: Fury Road.. It's coming next month, and its final trailer suggests that it is going to be a rollicking, bombastic cinematic hell-ride. Now click play below, and devour with glee.
This trailer, which comes from Apple (opens in new tab), is simply all kinds of yes. I mean, where can you even start? How about Charlize Theron's metal hand? Or the three war parties that followed her truck full of 3,000 gallons of gasoline? Or the delightfully choreographed ballet of explosions and crashes that suggests Mad Max: Fury Road's action scenes will be a glorious barrage of action splendor for audiences?
Or maybe we don't need to focus on one thing and should just let the entire final trailer for Mad Max: Fury Road wash over all of us instead. Because even though I predict The Avengers: Age Of Ultron will probably amass the bigger box-office, Tomorrowland will probably be the most heartwarming, Ant-Man will be the most divisive, Jurassic World will be the most nostalgic, and Inside Out will be the most lauded, Mad Max: Fury Road looks likely to steal the summer. Unless the trailers have actually all been lying to us and Mad Max: Fury Road ends up being a pompous damp-squib of mediocrity. If that's the reality then, as Johnny Crash once sang, I'll simply cry, cry, cry.
Mad Max: Fury Road is the fourth instalment to George Miller's post-apocalyptic franchise, and the Australian filmmaker has been given the vast sum of $150 million to make his effort. Every single cent of that budget looks like it has been plastered on-screen. Miller appears to have created a barren world that is still lusciously awake with color, is packed with surreal and uniquely over-the-top characters, and is made-up of only sand, metal, fire, wheels, bullets, and violence.
Tom Hardy takes the titular role from Mel Gibson, who previously starred as "Mad" Max Rockatansky in the three earlier installments; and The Dark Knight Rises actor will be joined on-screen by Charlize Theron, Nicholas Hoult, Riley Keough, Zoe Kravitz, and Rosie-Huntington-Whiteley. Mad Max: Fury Road will see Max and Theron's Furiosa trying to cross the desert, while they are pursued by Immortan Joe (Hugh Keays-Byrne) because Furiosa stole the five young women he wants to mother the next generation – and only Max's knowledge of the desert can help them reach their target. Fingers crossed the plot will remain that simple and the action can be allowed to prosper. We'll see if that's the case when Mad Max: Fury Road is released on May 15.
Your Daily Blend of Entertainment News
Your Daily Blend of Entertainment News
Thank you for signing up to CinemaBlend. You will receive a verification email shortly.
There was a problem. Please refresh the page and try again.