The New Mad Max: Fury Road Trailer Is Weird, Insane And Undeniably Cool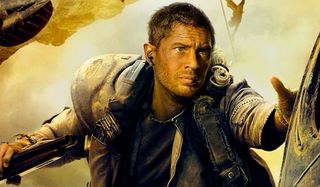 The long-in-the-making Mad Max: Fury Road released a brand new trailer that further teases the frequent mix of desolation and destruction. The pulse-pounding, post-apocalyptic world of Mad Max has never been this insanely intense, as the evolution of the franchise is on full explosive, eye-rattling display.
Branching out further than the previous clips we've seen, this magnificent montage of mayhem begins with a profound, sullen soliloquy from new Max Tom Hardy. It perfectly encapsulates the character's current state, saying, "In this wasteland, I am the one who runs from both the living and the dead. A man reduced to a single instinct: survive." It also sets the tone for Max's role as an aimless drifter in this barren, lifeless world, one who simply finds himself moved by the various forces of unidentifiable chaos depicted in the trailer. Max has no real agenda other than to "survive," for reasons that may only be known to himself. Yet, when an opportunity to stand up for justice arises, he always seems to take up the cause, possibly motivated by the fact that he had nothing better to do with his time.
Based on what we see in this more plot-centric new trailer, Max's latest act of apparently accidental beneficence has him the target of a cruel overlord named Immortan Joe (Hugh Keays-Byrne) after Max aids a mysterious woman, Imperator Furiosa (Charlize Theron), in rescuing a group of young girls from his grasp. For reasons that remains unknown, those girls are extremely important to Joe's malevolent agenda, and the gas-mask-wearing despot sets out with his legions of lackeys to get them back. And, as we have seen, Joe has more than enough resources and looney loyalists to make this rapacious repossession -- including, most notably, a guy who attacks Max with A FLAMETHROWER GUITAR!
As the various trailers and clips have shown, the world depicted in the Mad Max films is pretty much just sand and sun at this point. It's a startling breakdown that we witnessed throughout the first three Mel Gibson-starring films. What started as a simple depiction of a fuel-starved, post-government society still living somewhat comfortably in 1979's Mad Max, escalated to focus on brutal gang warfare on the road in 1981's The Road Warrior, coming to fruition with the depiction of an arid wasteland full of bizarre tribal societies in 1985's Mad Max Beyond Thunderdome. Likewise, Max Rockatansky experienced a similar devolution. Whereas he once had a purpose in life as a member of a post-apocalyptic police force, with a wife and infant son to care for, we saw every aspect of his life get chipped away. Now, he is essentially a leather-clad leaf in the winds of desert tornadoes.
Mad Max: Fury Road brings the franchise back from a 30-year hiatus, to "rise from the ashes of this world," when it hits theaters on May 15.
Your Daily Blend of Entertainment News
Your Daily Blend of Entertainment News
Thank you for signing up to CinemaBlend. You will receive a verification email shortly.
There was a problem. Please refresh the page and try again.