How Much Captain America: Civil War Made In Its First Day Overseas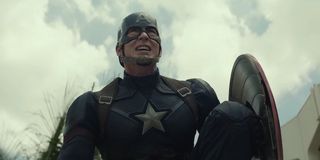 Everyone expects Captain America: Civil War to become an absolute success. Despite lofty expectations, it's already started to live up to that high bar. Although we still have one long, agonizing week left until the film actually hits theaters in the United States, Civil War has already begun to put on a clinic overseas. Opening yesterday in a number of major markets, Civil War has officially flexed its super muscles, and in one day it proved that it's not a movie to be trifled with by raking in millions.
The numbers are in, and according to a new report from THR, they look great for Captain America: Civil War. Opening in 15 different foreign markets on Wednesday, the film managed to bring in an astonishing $15 million during its first day in theaters. This performance has catapulted it to a No. 1 spot in every market, and brought it very close to matching the numbers posted by last year's Avengers: Age of Ultron. The film has an insane amount of momentum behind it. In South Korea, the Philippines, and Hong Kong, it experienced the No. 3 all time best opening for a major motion picture, and it became France's best opening day for 2016. It's tracking so well overseas that many believe it could garner a whopping $200 million at the box office this coming weekend, a week before it hits theaters in the United States.
One of the biggest assets that Captain America: Civil War seems to have going for it is its scope. Many people have begun lovingly referring to the coming film as Avengers 2.5, and they're not completely off base with that assessment. The film not only revolves around the titular Star Spangled Avenger, but it also will features an entire Avengers lineup, as well as the introductions of Black Panther and Spider-Man.
Currently sitting at a 98% "Fresh" rating on Rotten Tomatoes, the film has become Marvel Studios' best rated film to date -- effectively proving that the Russo's success on The Winter Soldier was definitely not a fluke. With so much Marvel prestige behind the project, basically anyone with even a passing interest in comic book movies will likely line up to see the film. It also doesn't hurt that the film takes inspiration from Mark Millar's Civil war story arc, which is widely regarded as one of the best singular comic book narratives to hit shelves in the last decade.
We will keep you posted regarding Captain America: Civil War's financial performance as more details roll in. At this point it seems as though the upcoming Marvel behemoth will be the superhero film to beat in 2016. Be sure to check Civil War out when it finally hits theaters next week on May 6.
Originally from Connecticut, Conner grew up in San Diego and graduated from Chapman University in 2014. He now lives in Los Angeles working in and around the entertainment industry and can mostly be found binging horror movies and chugging coffee.
Your Daily Blend of Entertainment News
Thank you for signing up to CinemaBlend. You will receive a verification email shortly.
There was a problem. Please refresh the page and try again.