How Seth Rogen Feels About The New Apple CEO's Criticism Of Steve Jobs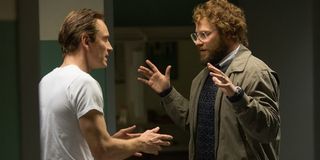 Despite the critical acclaim for Danny Boyle and Aaron Sorkin's Steve Jobs coming out of the film festival circuit, there was one person who vehemently denounced it — current Apple CEO Tim Cook. He called the film opportunistic in its depiction of the late Apple co-founder, which caused Sorkin to fire back at his statements. During the press junket for the film, Cinema Blend sat down with another member of the Jobs movie team, Seth Rogen, who addressed this issue very briefly in an interview.
Rogen portrays the other Apple co-founder, Steve Wozniak, in the film starring Michael Fassbender. Prior to shooting, Rogen had the opportunity to chat with the real Wozniak, who is perhaps the most visible person with Apple leanings that spoke out in favor of the film. In fact, one could say he's been championing it. When I brought up both Wozniak and Cook during the interview, Rogen remarked,
At the time this article went to press, Cook finally has seen the movie. According to Aaron Sorkin, who appeared on The Today Show to address his harsh remarks towards the Apple head, Universal set up a screening of Steve Jobs for Cook, who hasn't said anything public about the film since. The screenwriter has since apologized for his verbal retaliation, telling E! News that he hopes he enjoys the movie as much as he enjoys his products. Perhaps the fact that Cook isn't saying anything now is a good sign.
Watch Seth Rogen in our video interview below.
Most of the heat directed at Steve Jobs stemmed from the portrayal of the tech genius, spotlighted by his tumultuous relationship with his daughter and his first wife, and how he treated his workers. The cast and crew have been pretty outspoken very early on, though, about how this is not your traditional biopic. In a separate interview, Kate Winslet, who portrays Joanna Hoffman in the film, said there's definitely an element of playing with facts.
Steve Jobs depicts the behind-the-scenes action of three product launches — the first Mac computer, the NeXT cube when Jobs left Apple, and the iMac after Jobs returned. A core cast of characters are included in all three acts, including Jeff Daniels as John Scully, who Winslet said actually never reconciled nor saw Jobs after their split. Boyle also told Cinema Blend that it was important for Jobs to experience redemption and that, while his products are exquisitely made, he himself is poorly made. He revealed they made slight changes between the Telluride and New York festival screenings to make this more powerful.
Steve Jobs will expand to more theaters this weekend.
Your Daily Blend of Entertainment News