Ice Cube In A Charles Dickens Adaptation? Here's What We Know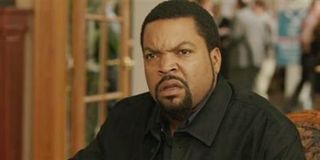 With the recent biopic documenting Ice Cube's life and times with the iconic rap group N.W.A., the actor has been put back in the spotlight. It's not as if he's gone anywhere, but it does seem to have been some time since we saw him in a starring capacity. Well now it turns out that Universal Pictures has just purchased a script entitled Humbug and Ice Cube is attached to star.
According to Variety, the script from writers Todd R Jones and Earl Richey Jones (Johnson Family Vacation, Rio) is a contemporary retelling of the classic Charles Dickens story, A Christmas Carol. In this new iteration, a wealthy real estate mogul is given the opportunity to redeem himself by traveling with the ghosts of Christmas Past, Present and Future to different parts of his life. Sources have confirmed that Tim Story is set to direct the film, which marks yet another collaboration between director and actor. Both Cube and Story first worked together with box office hit Barbershop, followed with two sequels, and the third currently in production. The duo also worked together on the Ride Along series which will see a sequel out next year.
Humbug is quickly coming together with Ice Cube in the titular role. There's no word of release date, but now that the script has been purchased by a major studio, that ball has begun rolling, and we can expect to hear about more casting and details in due time. Though the plot given is very basic, Ice Cube does seem to be the perfect fit for a Scrooge-like character. He often portrays a grumpy side to himself in many of his characters, so it's easy to see him play the ultimate grump in literary history.
Adaptations of the classic Charles Dickens novella are certainly nothing new. The story of Ebenezer Scrooge, and the transformation from a greedy miser to a kind, Christmas-loving saint, is one that can warm even the coldest of hearts. A more modern telling could even give a bit of social commentary in how we may all be a little like Scrooge in our own ways.
Though one problem in adapting a famous literary work from the 1800s, means there are already plenty of adaptations for comparison. There are good ones, but the majority, well, aren't so great. Most recently on film, Walt Disney Pictures and ImageMovers released a Digital 3-D performance capture film starring Jim Carrey as Ebenezer Scrooge. Carrey took on multiple roles in the movie, and though visually it was a unique experience, the picture absolutely tanked at the box office with mixed reviews from critics. It has been over 6 years now since we've seen A Christmas Carol adaptation though, so maybe it's the perfect time for Ice Cube to step into the role.
Your Daily Blend of Entertainment News