Idlewild Director Bryan Barber Gets Rights To Robot 'Toon Gigantor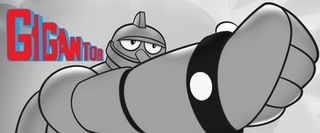 Remember Idlewild? Released back in 2006, the Prohibition-era musical starred OutKast members Andre "Andre 3000" Benjamin and Antwan "Big Boi" Patton. While the flick generated some buzz, it didn't review terribly well and made little more than a whimper at the box office. That was bad news for writer/director Bryan Barber, who made his feature debut with Idlewild. After being disappointed about the direction of his career in the intervening years, Deadline reports that Barber is taking things into his own hands by acquiring the rights to a potentially film-friendly property: the 1960s cartoon Gigantor.
Gigantor was the American adaptation of the Japanese anime series Tetsujin 28-go. It tells the story of a young boy who controls a giant, flying combat robot named -- you guessed it -- Gigantor. How did a tween get his hands on the remote control for a giant, flying combat robot, you might ask. Gigantor was designed by the boy's father to be a weapon, and subsequently programmed to be used for more peaceful purposes (I'm getting an Iron Giant vibe here). Having secured the Gigantor rights, Barber will be pitching the concept as a multi-million dollar live-action film described as "Transformers meets Goonies."
The story of how Barber landed the Gigantor rights is possibly more interesting than a potential Gigantor movie might be. After Idlewild, Barber was attached to a couple of big gigs, including Wolverine. Increasingly frustrated by the opportunities available for a new director in the aftermath of the writer's strike, Barber hit upon the idea of seeking out a property where he could secure the rights, thus placing himself in a much better negotiating position for the director's chair. After spotting a video box of the old cartoon series, he thought it would be ripe for an update and began tracking down the rights holder. He eventually found Fred Ladd, an 86-year-old voice actor who had given the rights to the Japanese cartoon years ago, then oversaw their transition to American screens.
After having convinced Ladd he was genuinely interested in making a Gigantor movie, Barber now controls the Gigantor rights for films, videogames, and merchandise. If Gigantor becomes a franchise, Barber will be sitting pretty thanks to a lot of frustration and a little bit of leg work. If it all comes together, he might just have the next Real Steel on his hands...or if he's really lucky, a less execrable Transformers.
Any potential Gigantor flick is a ways off at this point, but Deadline says Barber is creating a sizzle-reel to help sell the premise.
Your Daily Blend of Entertainment News
Thank you for signing up to CinemaBlend. You will receive a verification email shortly.
There was a problem. Please refresh the page and try again.