Independence Day 2 Is Bringing Back Vivica A. Fox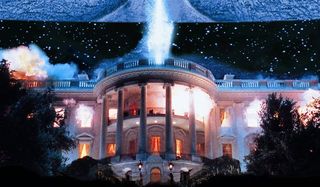 Independence Day 2 continues to solidify its cast, as the film approaches its June 24, 2016 release date. Actors new and old are coming to join the alien-invasion fray, and now director Rolland Emmerich has announced the latest to join the cast will be none other than Vivica A. Fox. And just when we were starting to wonder whatever happened to her.
Emmerich announced the news on Twitter, accompanied by a photo of him and his original Independence Day star. In the original film, Fox played a stripper named Jasmine Dubrow, who was also Will Smith's on-screen love interest in the 1996 installment. She worked the pole in order to make ends meet to support her son as a single mother, but that's when the alien invasion hit, so she didn't have to worry about it for much longer. Her and Smith's Steve eventually got together at the end and got married. However, Smith has said that he won't be returning for Independence Day 2. Are they divorced by the sequel? Is he deceased?
Additional casting sheds some light on Jasmine's situation, though details are virtually under wraps. Jessie Usher, most known for the Level Up TV series on Cartoon Network and When the Game Stands Tall, is playing Jasmine's son, Dylan Miller, now all grown up. As Emmerich told Entertainment Weekly back in 2013, it's "like the sons take over." At the time he also mentioned wormholes in describing how the aliens travel, and that this new post-invasion world in Independence Day 2 would see a "parallel history," where people have learned to harness the alien technology but not duplicate it, as it's "organically grown." While tweaks could've been made to the script since this interview, a new report states that the sequel will be called ID Forever and will see a new wave of invaders coming 20 years after the first film.
Fox is joining her fellow former cast mate Jeff Goldblum, who played the MIT grad/environmentalist David Levinson. Bill Pullman is also expected to return as President (or likely now former President) Thomas J. Whitmore. Also cast as part of the "new blood" are Hunger Games heartthrob Liam Hemsworth, who's reportedly playing Whitmore's son-in-law, and Nymphomaniac star Charlotte Gainsbourg. Emmerich, an out gay man and longtime advocate for LGBT rights, also said that he's going to include a gay couple in Independence Day 2, but he told The Hollywood Reporter that he doesn't make a big deal about it. As you can see in the photo of the two, Fox is happy to be reuniting with her apocalyptic director for another go.
Emmerich is setting up shop in Albuquerque, New Mexico, and he hopes to start production on Independence Day 2 this May.
Your Daily Blend of Entertainment News
Your Daily Blend of Entertainment News
Thank you for signing up to CinemaBlend. You will receive a verification email shortly.
There was a problem. Please refresh the page and try again.