Insidious: Chapter 3 Finds Its Director Close To Haunted Home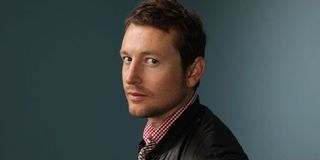 James Wan directed both Insidious and its sequel Insidious: Chapter 2. But when Fast & The Furious 7 came calling, Wan bailed on the horror franchise, and Blumhouse Productions was tasked with finding a new helmer for their promised Insidious: Chapter 3. But their search was short, and didn't even extend beyond the cast of the haunted house film series.
Blumhouse has proudly announced that Leigh Whannell, the writer and co-star of both Insidious and Insidious: Chapter 2, has stepped up to the director's chair for Insidious: Chapter 3. He will also write the latest installment's screenplay. We can safely assume James Wan approves of this hire, as he is on board as a producer, alongside Jason Blum and Oren Peli.
As the franchise's writer and director, Whannell and Wan have shared credit for the success of the Insidious movies. The first movie cost just $1.5 million, but took in an astonishing $97 million worldwide, making it the most profitable film of 2011. From there, a sequel was essentially a license to print money. For Insidious: Chapter 2, Blumhouse bumped up the budget to $5 million, a gamble that paid off when the sequel had one of the biggest horror film openings ever, pulling in $40 million its first weekend. Film District (in conjunction with Blumhouse) committed to a third film just three days after Insidious: Chapter 2 opened. All told, the movie brought in a whopping $161 million worldwide.
But Leigh Whannell's horror cred runs deeper than Insidious. He got his start with Wan back in 2003 when they made a short film called "Saw." The pair later expanded the serial killer concept from the short into the genre-shifting horror-thriller Saw, which launched both of their careers as well as a sprawling, scary franchise.
For now, Blumhouse, James Wan and Leigh Whannell are giving no clues as to what fans should expect from Insidious: Chapter 3. But let's revisit the series' story thus far to see where it might lead. Serious spoilers ahead for both Insidious and Insidious: Chapter 2.
Insidious centers on the Lambert family and their struggles to free their young son from the grip of some malevolent spirits. In that film, it was uncovered that the boy was not the first in the family to have been haunted. Daddy Josh (Patrick Wilson) had long been plagued by woman in black. The first film ended with Josh possessed and murderous. Insidious: Chapter 2 picks up with the Lamberts picking up the pieces while Josh is under investigation for murder. His wife Renai (Rose Byrne) desperately wants to believe their lives can go back to normal, but strange occurrences in their home force her to realize their dealings with dead world of The Further aren't over yet.
Insidious: Chapter 2 offered a finale that may have closed the door on the Lamberts dealings in The Further, but it also opened a new one, reintroducing the clairvoyant Elise (Lin Shaye), who'd be killed in Insidious. The sequel brought her back as a spirit, one dedicated to helping the living. In the film's final scene, we're shown Elise reunited with her living minions Specs (Whannell) and Tucker (Angus Sampson), continuing her mission to free the living from the grips of the dead and demonic.
Based on this final shot, it seems Insidious: Chapter 3 could well be about the continued adventures of Elise, Specs and Tucker. But would that be a compelling enough story when Elise is already dead and the other two are essentially cartoonish comic relief? My guess would be Insidious: Chapter 3 will find a new family to torment, and this trio will come along to prove the common thread for the latest chapter.
Either way, we should find out soon as Insidious: Chapter 3 is looking to lens this July with plans to hit theaters on April 3, 2015. We'll give you more on this project as it develops.
Staff writer at CinemaBlend.
Your Daily Blend of Entertainment News
Thank you for signing up to CinemaBlend. You will receive a verification email shortly.
There was a problem. Please refresh the page and try again.