Iron Man 4 Could Feature This Actor As The Title Superhero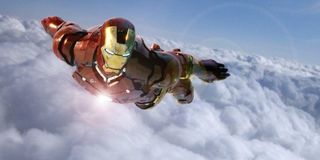 Remember Harley Keener from Iron Man 3? The adorable rapscallion from rural Tennessee who helped Tony Stark track down the Mandarin? Well, there is heavy rumor doing the rounds that he could be in line to replace Robert Downey Jr. as the titular superhero in a potential fourth installment to the Iron Man franchise. Crazy, right?
The name of the thespian in question is 13-year-old Ty Simpkins, who has had a rather impressive start to his burgeoning acting career. According to Movie Pilot, who got their information from the ingeniously named website Bam Smack Pow, Ty Simpkins will make his debut as the character in 2019's Iron Man 4. If this rumor is actually true, then the blockbuster would come out hot on the heels of Avengers: Infinity War Part 2.
Ty Simpkins popped up in the likes of Revolutionary Road, Insidious, and The Next Three Days, but his turn in Iron Man 3 even earned him a nomination for the Best Performance by a Younger Actor at the Saturn Awards. Plus he will also star in this summer's Jurassic World too. However, despite his impressive resume, it's a stretch to imagine that Marvel Studios believes he has the presence and charisma to replace Robert Downey Jr. as Iron Man. Especially since there's an argument to be made that if Robert Downey Jr. hadn't been cast as Tony Stark, then Marvel wouldn't have achieved their subsequent success.
Of course there are plenty of reasons to approach this rumor with a heavy dose of salt. First of all we don't even know if there is going to be an Iron Man 4. Robert Downey Jr's original contract allegedly ended after Iron Man 3. However it was reportedly extended (at some point, in closed-door meetings) to include his appearances in both The Avengers: Age Of Ultron and Captain America: Civil War.
There is still plenty of speculation over both Robert Downey Jr.'s long-term future with Marvel Studios, as well as what the studio plans to do with the character. Especially because of his involvement in these films. It would make sense if Marvel decide to give the character a break for a few years. It's easy to forget how much of a risk it was when they originally decided to bring Iron Man to the big screen. He was still a cult commodity before 2008, but Jon Favreau's hugely enjoyable origin story, as well as his less successful 2010 follow-up and Shane Black's riotously entertaining Iron Man 3, have now turned the character into a pop-culture phenomenon.
With the growth of Marvel's cinematic universe showing no signs of abating, the studio might decide to use Robert Downey Jr's upcoming performances in Age Of Ultron and Civil War to give the character a truly bombastic and explosive farewell. They could then give the character a rest for a few years, which would help to solidify his iconic status before reprising him for Iron Man 4.
If the above hypotheses did actually occur, then this rumor might actually have some credence, especially since Marvel would then be able to tie Iron Man's return back in to Iron Man 3's narrative. It's almost definitely a rumor, but one that's worth discussing.
Your Daily Blend of Entertainment News
Thank you for signing up to CinemaBlend. You will receive a verification email shortly.
There was a problem. Please refresh the page and try again.