Jamie Foxx's Sleepless Night Remake Has A Badass, All-Star Cast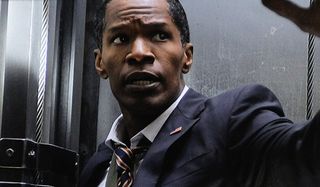 A few years back, the 2011 French action thriller, Sleepless Night made waves across the pond and everywhere else, thanks to its stripped-down, gritty intensity that seemed to hearken back to a pre-CGI era of film, while adding elements of modernity. Thus, Hollywood swooping in with a remake was inevitable.
However, the cast to this Americanized actioner starring Jamie Foxx is actually coming along impressively. With a recent report from The Hollywood Reporter announcing even more additions, let's take a look at the growing lineup.
Jamie Foxx as "Vincent Downs"
Jamie Foxx stars in writer/director, Frederic Jardin's intrigue-instilled thriller about a police detective who decides to give into "victimless crime" temptations and steel a big bag of cocaine from some couriers. However, unbeknownst to him, the bag belongs to a powerful drug lord who, in turn, kidnaps the wayward Las Vegas copper's son, threatening execution should his property not be returned.
However, if this film is anything like the original, the simple act of getting the drugs back will entail destructive encounters with other parties who each have their own agendas for impeding Vincent's errand, as he fights his way across unorthodox locales like a crowded, noisy nightclub and a kitchen.
Michelle Monaghan as "Unnamed Internal Affairs Agent"
Vincent certainly acts like a crooked cop, though his motivations might be touched with a bit of beneficence. It will be the job of Monaghan's Internal Affairs investigator to determine where he stands.
Having graced a number of big-budget films in the past, like Mission: Impossible III and Eagle Eye, the actress has taken a lower key turn as of late, though she had a notable run last year on HBO's True Detective. That, however, will change with her role in this summer's Pixels, which she will follow up with this role in Sleepless Night.
T.I. as "Vincent's Partner"
The entertainment M.O. "rapper turned actor" is hardly a unique one, however, T.I. seems to be taking a slow-but-steady path in the actor direction. With recurring television roles on Boss and House of Lies, he'll complement an appearance in the upcoming Marvel property, Ant-Man, with this role in Sleepless Night as the police partner of Jamie Foxx's embattled protagonist.
Dermot Mulroney as "Unnamed Gangster/Kidnapper"
A venerable mainstay in television and films such as My Best Friend's Wedding, Zodiac, and About Schmidt, Mulroney makes a magnificent addition to the cast. He will play the iniquitous aforementioned drug dealer who nabs Vincent's son for his plot-critical ransoming.
Scoot McNairy as "Unnamed Gangster/Kidnapper"
Mulroney's partner in literal crime will be played by McNairy. While showcasing a long resume, the Texas-born actor only just recently found himself breaking into notable projects such as 12 Years a Slave, Argo, and is a primary cast member on the television series Halt and Catch Fire. He's also set for an appearance in next year's Batman v Superman: Dawn of Justice before taking this villainous role in Sleepless Night.
David Harbour as "Unknown"
Sporting one of those faces that most people will know, very few casual moviegoers will likely be able to name Harbour. However, he has, indeed, spent several years being "that guy" in television shows and notable films such as 2014's The Equalizer, Quantum of Solace, and Brokeback Mountain. Perhaps there is something more memorably identifiable in store for Harbour here than his repertory "that guy" role.
Gabrielle Union as "Unnamed Suporting Role"
The perennial, seemingly un-aging love interest in many a movie going back well into the 1990's, Union will step into this film for an unspecified supporting role. Remembered for roles in Bad Boys II, Bring It On, and starring in the current BET television series Being Mary Jane, it might be a safe assumption that the vivacious vixen is playing the wife or love interest of Foxx's Vincent.
That's the rundown of the cast, thus far. It certainly will be interesting to see how it develops and possibly diverges from the original film, at least in terms of its signature stylistics, minimalism, and its ambitious across-one-day timeframe. The movie will be helmed by a Swedish director by the name of Baran bo Odar, working off a script by Straight Outta Compton and World Trade Center writer Andrea Beloff. While there's no timeframe regarding a release date, Sleepless Night will reportedly begin shooting on June 15 in Atlanta and Las Vegas. Consequently, 2016 seems a safe bet.
Your Daily Blend of Entertainment News
Your Daily Blend of Entertainment News
Thank you for signing up to CinemaBlend. You will receive a verification email shortly.
There was a problem. Please refresh the page and try again.