Jason Lee Shooting Alvin And The Chipmunks 3D In January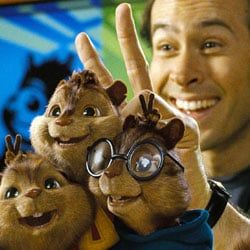 During a press conference today to promote his appearance on Raising Hope tomorrow night, Jason Lee revealed to us that he's doing Alvin and the Chipmunks 3. Weep for what might have been his career in the comments section below, or read on for all the Chipmunks details.
Like everyone who does a horrible kids movie, Jason Lee intimates that it's all for his kids. He says, "I will be filming Alvin 3 this January, to the delight of my two children. They're just beside themselves with enthusiasm." They probably are. Kids love those movies where talking CGI animals interact with live action humans. Well, except for that one Brendan Fraser did awhile back. Not even a little kid could love that.
The third Alvin and the Chipmunks will be in 3D of course, and they'll probably end up calling it Alvin and the Chipmunks 3D, because that's just what you do in Hollywood these days. Mike Mitchell is in negotiations to direct, and he was responsible for the underrated and excellent family superhero movie Sky High, as well as the slightly better than the previous, horrible Shrek sequel Shrek Forever After.
Your Daily Blend of Entertainment News
Thank you for signing up to CinemaBlend. You will receive a verification email shortly.
There was a problem. Please refresh the page and try again.