Jason Priestley's Directorial Debut Goes Into Production With Two New Cast Members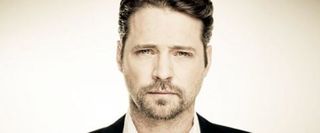 Oh Jason Priestley. For countless red-blooded American women this Canadian heartthrob was a beloved crush object for a decade's worth of Beverly Hill, 90210. Though Brandon Walsh remains his best-known role, Priestly has worked regularly in America and Canada in front of and behind the camera since then. In 2010, he served as producer, director and star for the racy Canadian sitcom Call Me Fitz, but now Priestly is prepped to make the leap to helming a narrative feature.
The film, titled Cas & Dylan (Dylan!), will mark Priestley's second feature film, the first being the 1999 concert documentary about Canadian rockers The Barenaked Ladies Bare Naked in America. But between then and now he's helmed a string of TV movies, and so seems primed for this leap. Penned by Jessie Gabe, the story centers on the unlikely bond that sparks between a 20-something young woman named Dylan and Dr. Cas Pepper, an ailing 60-something, as they set out on a life-changing road trip.
With production kicking off in Ontario, THR has learned Canadian thespians Eric Peterson (Corner Gas) and Aaron Poole (Copper) have joined the cast that already boasts The Vows' Tatiana Maslany as Dylan and Richard Dreyfuss as Cas. Unfortunately, the new item doesn't mention what roles Peterson or Poole will play.
Adding some pathos to the proceedings, early reports declared that Dreyfuss' character is hell-bent on suicide, but that Dylan—a stranger to him—takes it upon herself to stave off his self-slaughter, presumably with the aforementioned road trip. On the surface, this premise seems similar to Ramin Bahrani's 2008 indie drama Goodbye Solo, which centered on the unexpected friendship that forms between a suicidal old man and the young taxi driver he hires to drive him to his desired demise. However, as Cas & Dylan is categorized as a comedy, anticipate a less dour ending.
Your Daily Blend of Entertainment News
Staff writer at CinemaBlend.