Jennifer Aniston's Mean Moms Might Not Be Happening As Soon As We Thought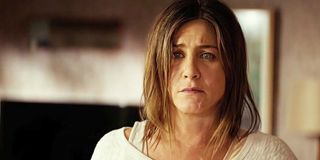 In news that Mean Girls fans will find far from fetch, director and co-writer Sean Anders has admitted that the Jennifer Aniston led Mean Moms, the spin-off to the cult 2004 comedy, is currently in hiatus. However, despite the fact that progress on the film has stalled, Sean Anders remains hopeful that it will still come to the big screen. Because he really, really wants it to.
Sean Anders, who has already signed up to co-write Mean Moms alongside his writing partner John Morris, as well as direct it too, admitted to me earlier today that there is currently no future in sight for Mean Moms. However he's still fighting hard for it to enter production and be released.
Mean Moms was originally announced back in early 2014, with Warner Bros. and New Line even declaring that it would have a release date of May 8, 2015. At the time production seemed a certainty, especially since Jennifer Aniston had signed up to star, and her previous comedic exploit We're The Millers had just grossed $270 million.
Rather than being a direct sequel to Mean Girls, it would instead be a spin-off that was adapted from Rosalind Wiseman's Queen Bee Moms and King Pin Dads: Dealing With The Parents, Teachers, Coaches, And Counselors Who Can Make – Or Break – Your Child's Future. Rosalind Wiseman's Queen Bees and Wannabess: Helping Your Daughter Survive Cliques, Gossips, Boyfriends, And Other Realities Of Adolescence acted as the main inspiration for Tina Fey's Mean Girls script.
But then problems started to arrive just a few months later when, in May 2014, New Line Cinema pulled Mean Moms from its release date, while insisting that it was still in development. More alarming was the fact that they didn't provide a new release date. After a year of indecision, Mean Moms was once again confirmed in May 2015, and followed with an announcement that Sean Anders would be directing the film.
Clearly over the last few months something has happened to rock this boat, because both John Morris and Sean Anders appear to be as lost as anyone regarding Mean Moms' future. Let's hope that it can gain some momentum again though, because Mean Girls is rightfully regarded as one of the funniest films since the turn of the millennium. Written by Tina Fey, with Rachel McAdams and Amanda Seyfried in supporting roles, and led by the hottest young actress at the time, the one and only Lindsay Lohan, Mean Girls is just as great 11 years after it was released.
Plus, with Daddy's Home, Sean Anders delivers a very warm, consistently funny comedy the style and tone of which would suit Mean Moms. Daddy's Home will be released on Christmas Day. Fingers crossed we'll have a positive answer soon regarding Mean Moms' fate.
Your Daily Blend of Entertainment News
Thank you for signing up to CinemaBlend. You will receive a verification email shortly.
There was a problem. Please refresh the page and try again.