Jesse Bradford Hooks Up With Sassy Girl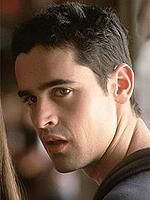 Jesse Bradford digs roles where crazy women flock towards him like flies to feces—in Swimfan, he had a psychotic internet stalker (Erica Christensen) and in Heights, he was pursued by a relentless, aging actress (Glenn Close).
Keeping with the tradition, the baby-faced actor has joined the film Sassy Girl, a remake of a popular South Korean romantic comedy. The redux will be directed by Yann Samuell for Gold Circle films, the company who brought us My Big Fat Greek Wedding (yay) and The Wedding Date (nay).
Sassy Girl is about a small-town guy from the Midwest who believes his whole life is planned and neatly wrapped with a big, pink ribbon. That is, of course, until he meets a reckless, sassy gal (Elisha Cuthbert) that brings havoc into his life. Then again, if your life has to derail off course, there are worse ways than killing time with a ridiculously attractive blonde.
Shooting will begin in early November in New York. Bradford, in a change of pace, will be seen next in Clint Eastwood's October war epic Flags Of Our Fathers.
Your Daily Blend of Entertainment News