Josh Brolin Co-Starring With Emily Blunt And Benicio Del Toro In Sicario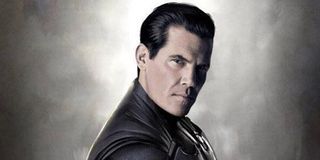 Next year just added a new must-see movie to its lineup: the thriller Sicario. This film, directed by Denis Villeneuve, stars Emily Blunt as a cop who recruits two tough mercenaries on a journey into Mexico to stop a drug lord. Earlier, Benicio Del Toro signed on to the project, and now another heavy hitter is about to join the cast, bringing his specific brand of machismo with him.
The Wrap reports that Josh Brolin will co-star in Sicario, which shoots this summer. It also reveals the particulars of each role. The mission is a CIA-fronted one, with Blunt starring as a Tucson SWAT officer who is recruited on a cartel-destroying mission with the aforementioned duo of mercenaries, one of them played by Del Toro. Brolin would play the CIA operative who recruits Blunt, which means there is still one mercenary role left to be cast, and a couple of bad guys who might require big name actors as well. In other words, casting is not be complete for this exciting-sounding project.
Brolin's having a pretty big week. Just yesterday it was revealed that he was the name-acting Marvel had been courting for so long to play Thanos, the big baddie in the next couple films. Brolin's only providing a voice for Guardians Of The Galaxy, but he's shooting Sicario this summer. Given that he's supposed to actually be in Avengers: Age Of Ultron, which is shooting now, you can guess that his part in that summer blockbuster is not very big. Given Marvel's peek-a-boo strategy with this character, he's probably in one shot, walking to the camera, smiling, saying something foreboding, then promising a return in another film years down the line. In other words, Brolin could easily schedule his Avengers part around Sicario. Brolin will next be seen in Inherent Vice and the exploration adventure Everest.
Villeneuve has been busy as of late. Last year he earned attention with Prisoners, which grossed $122 million worldwide, and earlier this year he was back in theaters thanks to the release of the creepy Enemy, which played the arthouse circuit to chilly, unusual responses. He's not one to repeat himself, so it's hard to say what kind of film we'll get out of both Sicario and his next film, Story Of Your Life, a sci-fi thriller starring Amy Adams.
It's interesting that Villeneuve is directing two straight genre pictures starring women. This is actually pretty exciting, particularly given that this is a post-Edge Of Tomorrow Emily Blunt. She is absolutely stacked in that film, and she gives a powerful performance that makes you wish the movie didn't entirely serve the needs of Tom Cruise, Movie Star. Seeing Blunt play off Brolin and Del Toro should be exciting, as should Adams in a pretty intriguing-sounding existential sci-fi mystery.
Your Daily Blend of Entertainment News