Judge Reinhold Doesn't Even Look Like The Same Person In His New Movie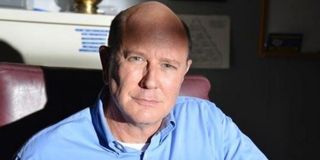 Judge Reinhold has undergone a huge transformation in order to play former basketball coach Don Meyer in the upcoming sports biopic, My Many Sons. Meyer was famously bald, and for his performance Reinhold decided that in order to do the man justice by shaving off all of his blonde locks for his portrayal. As you can see above, the result is that he looks remarkably different.
You can check out a clearer image of Judge Reinhold's new look over at Yahoo Movies. Just a quick warning though, seeing him like this will probably make you feel really old. In the piece that joins the picture Judge Reinhold talks about his decision to shave his hair, and he admits that he made the decision because "those [bald] caps don't work at all." You can't help but bit a tad impressed with the dedication Judge Reinhold has for his craft. I'm actually a little bit surprised that he went to such great lengths for it to be honest, especially since his curly bouffant has been one of his trademarks ever since he burst onto the scene. In fact, let's celebrate his legendary mane in all of its glory by looking back at how he previously looked in his other cinematic outings.
Let's start off our retrospective by taking a look at his hair in the legendary 1982 comedy Fast Times at Ridgemont High, where he played Brad Hamilton. How can you hate a man who displays his luscious curls so brazenly?
But it was his performance as Det. Billy Rosewood in Beverly Hills Cop that really implanted his stupendous locks into pop culture history. Of course, he later went on to make an two more appearances as Rosewood in 1987's Beverly Hills Cop II and 1994's Beverly Hills Cop III, and like a fine wine his hair only seemed to get stronger with age.
And even in his most recent work, such as when he played himself in a 2006 episode of Arrested Development, Reinhold's hair has still shown no signs of abating.
Hopefully Reinhold won't regret going bald for My Many Sons, which is expected to be in theaters next year.
Your Daily Blend of Entertainment News
Thank you for signing up to CinemaBlend. You will receive a verification email shortly.
There was a problem. Please refresh the page and try again.