Jurassic World Is Probably Bringing Back This Unexpected Main Character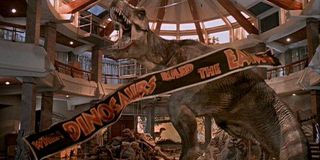 The first trailer for Jurassic World was released earlier this week and reminded moviegoers just why they fell in love with the franchise in the first place. Immediately after viewing it fans started to predict what might be in store for the fourth installment, and it's now been suggested that the original Tyrannosaurus Rex from Steven Spielberg's 1993 extravaganza will still be wreaking havoc.
When the list of dinosaurs in Jurassic World was originally announced, most fans were instantly drawn to the T-Rex. However not many would have thought that the same T-Rex from Jurassic Park would still be walking around Isla Nublar. But one eagle eyed IMGUR user has now found evidence that suggests the T-Rex who saved Sam Neill's Alan, Laura Dern's Ellie, Ariana Richards' Alexi, and Joseph Mazzello's Timothy at the conclusion of Jurassic Park is still alive and biting.
But what could the user have possibly found to even suggest such a comeback? Well, here is an image of Jurassic World's T-Rex that was taken straight from the official website for Colin Trevorrow's hugely anticipated blockbuster.
You'll notice that there are numerous scars and scratch marks down the side of his neck. Now all of you Jurassic Park aficionados will remember that at the end of the original film, the T-Rex that ate Martin Ferrero's Donald Gennaro in just a few measly bites gets into a tussle with various velociraptors. While he ultimately came out on top against them, he did sustain some injuries in his battle. Notably, when one ran his deep claws and bites the T-Rex all the way down to the base of her neck. You can see the abuse that the T-Rex receives in the clip below.
See what the IMGUR user is getting at? The injuries to the T-Rex in Jurassic World look remarkably similar to the ones that the T-Rex received in Jurassic Park. It has also been rumored that the T-Rex will play a huge part in the new film. According to Comic Book, it has been suggested that the T-Rex will take on the artificially created dinosaurs that are set to cause destruction throughout Jurassic World. And what better way for us to get on the side of the T-Rex than by reminding us of his previous exploits defending humans. And the fact that archaeologists insist that T-Rex's lived between 20 and 30 years and only really came to full size when they were 20 fits exactly in with the time-line.
It's definitely something to ponder.
Your Daily Blend of Entertainment News
Thank you for signing up to CinemaBlend. You will receive a verification email shortly.
There was a problem. Please refresh the page and try again.