Jurassic World Takes Us Inside Its Theme Park In First Set Videos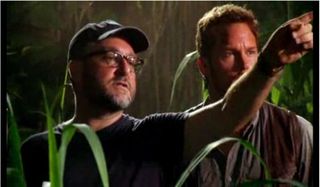 21 years ago, Jurassic Park showed us the story of humans trying to play God, and failing miserably in the process. In the latest sequel, Jurassic World, that whole playing God racket seems to be working out quite well. So well that the powers that be decide to push things a little further. Far enough that danger once more revisits the place where people and dinosaurs can play the deadliest game of hide and go seek. After months of buzzing about casting, shooting locations, and even signing a composer onto the film, Jurassic World has given the media their first taste of its recent shoot in New Orleans. What you're about to see is a pretty neat look at what John Hammond's dream looks like as a reality.
Naturally, our first look comes from The Today Show and The Hollywood Reporter grabbed the scoop direct from the source. Two videos wound up online, one from the actual broadcast as well as an internet exclusive video, both showing bits and pieces of Colin Trevorrow's future summer blockbuster. In the first video above, we see cast members Chris Pratt and Bryce Dallas Howard chatting about everything from their own nostalgic musings everytime they watch on-set footage to Chris Pratt's new reputation for being a beefcake. Pratt himself even provided an explaination for just why a new dinosaur is being created in the first place:
Looks like Coupon Day just isn't cutting it anymore.
While there are no dinosaurs on this dinosaur tour, we do get to see choice shots of the park in action. Images of excited tourists streaming into the park via one of the docks and pavilions with spectators and dino scooters a plenty are on display, as well as quick glimpses of the park's maps. As a bonus, eagle-eyed fans will notice that at the 02:30, you can see your first blurry glimpse of Irfan Khan's character, Patel, overlooking something ominous with Bryce Dallas Howard in the office set that was shown in the film's first official photos. The next video, shown below, is a little more in depth as Bryce Dallas Howard and Chris Pratt show Today Show correspondent Jenna Bush Hager around the Jurassic World gift shop, which is fully stocked with goodies for every boy and girl to want to take home.
I know what you're thinking to yourselves: this feature is a little early isn't it? I would agree wholeheartedly that this sort of feature would be something that you'd see maybe a couple of months out from a film's release, instead of almost a full year. So why is Jurassic World opening its doors this early? If you've been on the internet the past couple of months, you know exactly why we got this first look: to combat the leaked set photos that have been showing up online.
Much like J.J. Abrams and the leaked photos from the set of Star Wars: Episode VII, Colin Trevorrow's strategy with Jurassic World is to show the fans the official versions of what they've already seen, instead of just pulling said photos and maintaining the information black out. Feeding the fan's curiosity is only going to make them hungrier for more, which means next summer's release of the film could find itself so hyped that it'll earn itself a place in the record books.
Jurassic World will go for the box office gold on June 12, 2015.
CinemaBlend's James Bond (expert). Also versed in Large Scale Aggressors, time travel, and Guillermo del Toro. He fights for The User.
Your Daily Blend of Entertainment News
Thank you for signing up to CinemaBlend. You will receive a verification email shortly.
There was a problem. Please refresh the page and try again.