Justin Long Moves Into Writing And Producing With Rom-Com Spec Script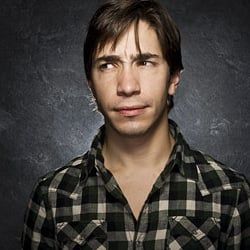 Justin Long has been a working actor for over a decade now but never exactly what anyone would describe as a powerhouse, so he's doing what any actor with even minimal smarts and long-term planning skills would do: going into production. Along with partners Keir O'Donnell (an actor known from United States of Tara and Edding Crashers) and Christian Long (his brother), he's formed I'm So Sorry Productions. According to Deadline they're hitting the ground running, selling a half-hour sitcom to CBS, shopping around a rom-com spec script, and starting an online series for College Humor.
Long would only be acting in the feature script, titled A Case of You and something I will automatically see because the title is a Joni MItchell reference. Long would play a guy who woos a girl after carefully consulting her internet dating profile, but eventually has to come clean and actually act like himself when the relationship gets more serious. It sounds like total boilerplate rom-com stuff, but then so did Going the Distance, which was a surprisingly frank and funny romantic comedy starring Long and Drew Barrymore. So I'm not judging just yet.
The sitcom, which will be produced by CBS Studios as well as former NBC exec Ben Silverman, follows two high school science teachers who live together in a kind of Felix and Oscar Odd Couple setup. And the web series is called Fanfare, recreating "bizarre encounters between fans and celebrities." Having witnessed more than a few of those in my time covering junkets and festivals, I guarantee you there's plenty of comedy to be mined out of that.
Despite this move nto writing and producing, though, Long is keeping plenty busy as an actor. He'll be part of the cast of the indie dramedy Ten Year, along with virtually every other funny actor around the age of 30, and he'll be in the giant omnibus comedy project currently known as Movie 43 but inevitably retitled something else. As possibly the only remaining member of the Justin Long fan club following those ubiquitous Mac ads, I still say the more the better.
Your Daily Blend of Entertainment News
Staff Writer at CinemaBlend