Kevin Durand Says No Thanks To Smokin Aces 2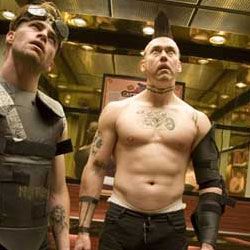 We've got new details on the status of Smokin' Aces 2. Yes, the sequel to Joe Carnahan's mildly successful hitman movie is still happening. More and more though, it looks like it will be happening without almost anyone who had anything to do with the first one.
The film is supposed to be a prequel. They're calling it Smokin' Aces: Blowback and it'll focus on the violent Tremor brothers. One problem though, at least one of the original Tremor brothers isn't going to be in it. We've learned that Kevin Durand, who played Jeeves Tremor in the original film (and who you'll see in Wolverine next year) is out. He's decided not to return for Smokin' Aces 2.
The status of the other two Tremor brothers remains uncertain, but Chris Pine played one of them. With Star Trek on the horizon odds are Pine will be much too busy for a sequel which, seems as if it's shaping up to be little more than a direct-to-dvder full of replacement actors.
As reported last week by Moviehole, right now the only actors signed for Smokin' Aces: Blowback are Nestor Carbonell and Tommy Flanagan.
Your Daily Blend of Entertainment News