Kristen Wiig Says Stop Trying To Make Bridesmaids 2 Happen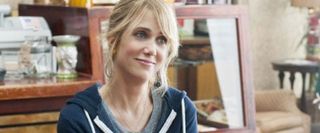 There's been much "will they, won't they" debate about whether or not Universal would succeed in spinning their wildly successful comedy blockbuster Bridesmaids into a sure-to-bank sequel. Having earned more than $288 million worldwide, it seemed a sequel to the female-fronted comedy was inevitable. Then after some troubling rumors, the film's star and co-writer Kristen Wiig revealed she and her writing partner Annie Mumolo were not working on Bridesmaids 2. Reports followed fast that Universal would move on without them, making Bridesmaids scene-stealer Melissa McCarthy the focus of Bridesmaids 2. However, McCarthy killed that possibility by voicing loyalty to Wiig and Mumolo, and insisting she would "never" be a part of a Bridesmaids 2 made without them. Shortly thereafter fellow Bridesmaids co-star Wendi McLendon-Covey weighed in and urged everyone to unwed their panties, insisting that Wiig would pen a sequel eventually. A claim Bridesmaids producer Judd Apatow supported by explaining no one from the original wanted to rush into some sort of cash grab sequel.
And so the story seemed to be put on pause, with fans of the bawdy comedy and fiercely funny women satisfied that a sequel would come when Wiig and Mumolo were happy with a concept and script.
Then E! asked Wiig pointblank if she planned to pen Bridesmaids 2 and the formerly ambiguous actress finally made a definitive declaration:
So there you have it. Bridesmaids 2 is dead. Instead, Wiig and Mumolo are moving on to a comedy that is "a little bit different in tone," meaning not raunchy. It's likely the script Wiig is alluding to may be an adaptation of the darkly funny novel Clown Girl, which Wiig bought the rights to in 2010, and plans to direct. In the meantime Bridesmaids fans can find some solace in seeking out the indie rom-com Friends With Kids that reunites Wiig with Bridesmaids castmates Chris O'Dowd, Jon Hamm and Maya Rudolph in a tale of romance, friendship and parenthood written and directed by Kissing Jessica Stein's Jennifer Westfeldt.
Friends With Kids opens March 9th.
Staff writer at CinemaBlend.
Your Daily Blend of Entertainment News
Thank you for signing up to CinemaBlend. You will receive a verification email shortly.
There was a problem. Please refresh the page and try again.