Kylie Minogue Added To San Andreas 3D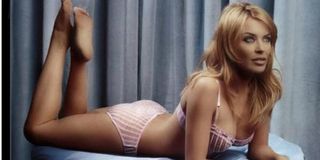 Brad Peyton's San Andreas 3D has been shooting for awhile now, with Dwayne Johnson and Carla Gugino starring in this contemporary disaster movie about a couple traveling from Los Angeles to San Francisco to save their child. Though the film takes place on the coast, San Andreas 3D has been shooting in Australia, which means its time to poach some local talent. And is there any greater local talent than Ms. Kylie Minogue?
The Hollywood Reporter reveals that Kylie Minogue will be a part of San Andreas 3D in an unspecified role. Minogue, an occasional actor who last appeared in the indie Jack And Diane, will show up in a climactic scene to beat back the earthquake with her stunning dance moves and golden pipes, performing a sea of retro disco dance hits so baller that Mother Nature must bow to her fury. That last part is in no way the truth, but all due respect to the director of Cats And Dogs: The Revenge Of Kitty Galore, they're not going to come up with a better ending.
The question is, where will this role fit in regards to the onscreen history of Ms. Minogue? Will it be anything like her Cammy of Street Fighter, a sexy British intelligence officer and assistant to Jean-Claude Van Damme's Col. Guile?
Or will it be more like Minogue's floating sprite from Moulin Rogue, a little singing green pixie who early on convinced you that Moulin Rogue was sort of an acid trip, until you got to the half hour mark and realized the whole movie would be like that?
Or, is this going to be classy, like Minogue's soulful, melancholic appearance in Leos Carax's excellent Holy Motors? Here, Minogue appears briefly, serenades a terrifying older lover played by Denis Levant, then meets an untimely end.
Whatever the case, the biggest news isn't that Ms. Minogue is getting acting work. No, the biggest news is that, buried within the earlier report is news that Kylie is recording a new song for the soundtrack! THE GAME HAS CHANGED. San Andreas 3D has officially become the danciest, funkiest, sexiest movie of 2015, and if you say otherwise, I don't even want to know you.
San Andreas 3D also stars Alexandra Daddario, Colton Haynes, and OH YEAH WE ALMOST FORGOT A KYLIE MINOGUE SONG. Kylie Minogue's San Andreas 3D Also Featuring The Rock hits theaters June 5th, 2015 .
Your Daily Blend of Entertainment News
Thank you for signing up to CinemaBlend. You will receive a verification email shortly.
There was a problem. Please refresh the page and try again.