The LEGO Batman Movie Will Focus On This Era Of The Hero's History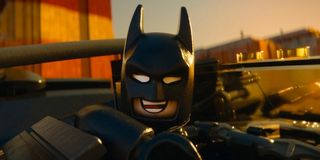 Batman's 75th anniversary may nearly be over, but the craze for the Caped Crusader won't be ending anytime soon. Along with co-headlining Batman v Superman: Dawn of Justice and the Justice League movies, Batman will be back in LEGO form when Will Arnett returns to voice DC's Dark Knight in a LEGO Movie - set for release in 2017. Not to worry though: this movie won't be just a comedic romp for families to enjoy; it will also apparently be one the the greatest Batman tributes the world has ever seen!
While chatting with Empire Online about their upcoming projects, directing duo Phil Lord and Chris Miller mentioned that the LEGO Batman spinoff - which takes place in the same universe as the first LEGO Movie will pay homage to all of Batman's cinematic adventures over the decades. Said Miller,
For those keeping track at home, there have been four distinct eras of live-action Batman films: the 1966 film (a continuation of the campy TV series), the Tim Burton films, the Joel Schumacher films and Christopher Nolan's Dark Knight Trilogy. There's also the lesser-known animated film Batman: Mask of the Phantasm, which was connected to Batman: The Animated Series, as well as the Batman serials from 1943 and 1949. By the time this spinoff is released, Batman v Superman will be a year old, so the film may even include a reference to Ben Affleck's Batman, a.k.a. the "Batfleck." Whew, this is a lot to take in!
Off the top of my head, there are several ways Lord and Miller could tackle this. Arnett's wisecracking, arrogant caricature could encounter LEGO versions of the previous cinematic Batmen (or is it Batmans?) while he's off on his adventure. This Batman has a massive ego, so just imagine how he'd react when he finds out there are other versions of him out there. If they wanted to kick it up a notch, have LEGO Batman drop in on different versions of Gotham, similar to how the heroes in The LEGO Movie visited different worlds. One moment he's in the psychedelic "Bam, Pow, Smack!" Adam West world, the next he's taking his Batplane to the moody, gothic world that Michael Keaton's Batman lived in. How can the filmmakers take it to the ultimate level? Recruit the original actors to voice their respective Batman. Adam West, Michael Keaton, Val Kilmer, George Clooney, Christian Bale and Ben Affleck all in one movie! Actually, maybe that's not a good idea. The world might explode from sheer awesomeness.
Connoisseur of Marvel, DC, Star Wars, John Wick, MonsterVerse and Doctor Who lore. He's aware he looks like Harry Potter and Clark Kent.
Your Daily Blend of Entertainment News
Thank you for signing up to CinemaBlend. You will receive a verification email shortly.
There was a problem. Please refresh the page and try again.